Dan Reynolds – River Maiden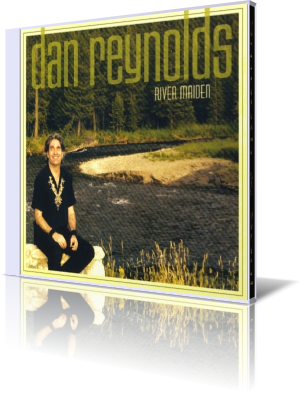 Dan Reynolds started his career performing regularly with DC-based jazz greats such as Marshall Keys, Ron Holloway, Keter Betts, Scott Ambush, Vinny Valentino, & Keith Killgo of the Blackbyrds. He also worked with Eddie Harris, Larry Coryell, Najee, Maysa, Ken Navarro and many more.
His first solo project Never Alone (1993) was followed by Lifeline (1994), To Be Sure (2000) and now River Maiden. Greg and Gary Grainger, Marshall Keys, Al Williams, & Scott Ambush are among the artists of this album. To classify his album just as smooth doesn't do justice to his musical art. His work deserves a closer observation.
Last Chance is the starting point of all good. Dan's piano and Rob Holmes' sax introduce into the melody expanding to awesome soli of Dan and guitarist Dan Leonhard which bridge the fragments of the melody line. The song is closed by Rob's final subtle sax solo.
Dan's distinctive appreciation of everything beautiful finds its expression in River Maiden. Dan not only masters the piano performance, he is also a musical expert of synthesizer and keyboards. His pitches, attacks, sustain and release are just on the point delivering the maximum of emotional outbreak. Gary Grainger on bass delivers brilliant rhythmical syncopated accents.
Peaceful moments are the theme of Summer Rain. Dan's piano performance outlines the melody filled with color by Marshall Keys on sax. Buttercup features Chris Battistone on muted trumpet. His performing credits include the Glenn Miller Orchestra, Ron Holloway, James Moody, Harry Connick Jr., Nancy Wilson, and many more. Nevertheless takes Dan the lead on piano with nonchalance and sovereignty.
Take It On Faith presents Dawn Robinson from the famous R&B group En Vogue in a modest duet with Jeff Watson. Tone color and richness of tone of Dawn's is incredible and so unfamiliar to her appearance in En Vogue. Angels & Butterflies pours out a cornucopia of brilliant piano tones over body and soul. A masterpiece.
Pinky's Groove is a musical symbolization of pure joy. Matvey Sigalov showcases his tremendous talent on violin. He is recognized not only as a violin player , but also as an original composer and a guitarist. Retro sound on Hammond B3 offers the dynamic Clive's Jive.
On Lady Cloud Dan Reynolds reveals his romantic vein melting his piano performance with the mellow tones of Rob Holmes' sax. The theme of great America mirrors in Big Sky associating images of vast prairies, mountains and forests. Calico Autumn closes the album with Dan's sensitive piano play answered by Dan Leonard on guitar.
Dan Reynolds and his fellow musicians illustrate on River Maiden their capabilities and personalities in every imaginable way. The beauty of melodies develops like a blossoming flower or like walking through a mythic garden.




Album Information

Title: River Maiden
Artist: Dan Reynolds
Year: 2009
Length: 0:45:34
Genre: Fusion
Label: Never Alone Music


Tracks:

01 Last Chance [4:04]
02 River Maiden [3:56]
03 Summer Rain [3:44]
04 Buttercup [4:20]
05 Take It On Faith [4:16]
06 Angels & Butterflies [3:04]
07 Pinky's Groove [4:30]
08 Clive's Jive [4:20]
09 Lady Cloud [4:27]
10 Big Sky [5:13]
11 Calico Autumn [3:41]