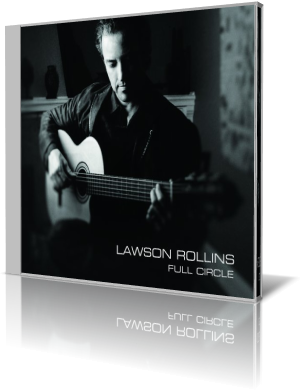 As acoustic guitarist Lawson Rollins has a special affinity for Latin jazz. He has already acted this passion on his solo albums Infinita (2008), Espirito (2010) and Elevation (2011). That with so much success that now follows his fourth album Full Circle (2013).
On his new album Lawson is accompanied by Dominic Carmadella (keyboards, piano), Dave Bryants (drums, percussion), Randy Tico (bass), Richard Hardy (clarinet, sax and flute), Charlie Bisharatz (violin) and Cameron Stone (cello). Lawson has written all compositions, which corresponds to his basic attitude.
Lawson comments: "Full Circle is somewhat of a return to my roots in a sense, with the focus shifting to a sound that is more centered and grounded in the instrument I know best - the nylon string Spanish guitar. I was determined and indeed excited to create a cohesive, guitar-focused album. Full Circle is perhaps the most accurate, pointed expression of my guitar style and approach to melody and songcraft to date."
Momentum is the amount or force of motion in a moving body. At Lawson Rollins that momentum is found in his dexterity. The Point of Attraction focuses on his acoustic guitar. Elegant melodies and mastery of the instrument enter into a blessed fusion. As Pursuit shows Lawson's playing the guitar has many variations. He likes to incorporate sometimes world music.
Some of his pieces like Flight are so expressive that they could readily serve as a template for film music. With Horizon he expands our perspective on the world music. The flowing rhythm reminds me of the music of the group Third Force. Of course, Lawson likes beautiful melodies combined with stunning speed as on Bloom.
The joy of making music lives Lawson intensively in his song Full Circle. This results from his attention to detail. Serpent's Tale lives of the interaction between oriental and flamenco elements. Perhaps a tribute to the Islamic period in Spain. The Offering gives us an insight on the romantic side of this guitar player. Gone From Here further extends that impression.
Lawson takes us with Shifting Seasons anew on a world tour. Promise closes the album with quieter sounds. Melancholy is replaced with cheerfulness.
Lawson Rollins proclaims with his album Full Circle good news. Life is beautiful. Enjoy it while your enthusiasm for fine music is not dried up.




Biography

Website


Buy the album in all stores

Album Information

Title: Full Circle
Artist: Lawson Rollins
Year: 2013
Length: 0:56:04
Genre: General Latin
Label: Infinita Records

Tracks:

01 Momentum [3:49]
02 Point Of Attraction [4:04]
03 Pursuit [3:35]
04 Flight [3:26]
05 Horizon [4:51]
06 Bloom [4:24]
07 Full Circle [3:41]
08 Serpent's Tale [4:23]
09 The Offering [4:45]
10 Gone From Here [8:50]
11 Shifting Seasons [6:28]
12 Promise [3:48]

Further reviews: