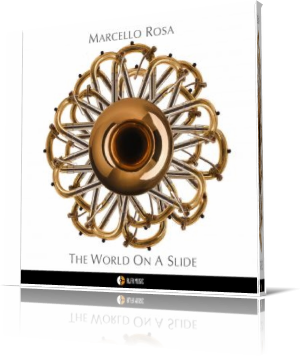 Rome based trombonist Marcello Rosa has assembled a great amount of fellow musicians with a clear focus on his preferred instrument, the trombone. The result is the album
The World On A Slide
, released in 2020 by AlfaMusic.
The album is a collection of pieces Marcello has written during his career. First song of the album is
Toledo
, which Marcello released on his album
Jazz A Confronto 2
(1973). The new edition is arranged tighter than the original, which gives it more effervescence.
Autumn Leaves
is a popular song and jazz standard composed by Joseph Kosma in 1945. In the end, it's baffling why a jazz standard is chosen when it ultimately boils down to an extensive solo that doesn't leave much of the original melody.
Bluestrano
is not only the title of this piece, but also the name of a formation of young musicians led by Marcello, which, as you can see on Facebook, has already had numerous performances. Mario Corvini is the soloist of the short variation.
W Gordon
is dedicated to the famous trombonist Wycliffe Gordon and so here also traditionally the things are going on.
Southern Ballad
creates a sparkling connection between guitar and trombone.
Il Ladro Di Noccioline
(The Peanut Thief) is undoubtedly influenced by Perez Prado's Mambo
The Peanut Vendor
. Of course, everything here comes across much more powerful comparable to the Bavarian LaBrass Banda.


Hamptoniana
is a blended word formed from Hampton and Piana probably in memory of a legendary concert. However, the duelists of this piece are in this case Massimo Morganti and Andrea Andreoli.
Tribute to Kid
is dedicated to Edward "Kid" Ory, the late jazz trombonist and bandleader. The tune has the impression of a ragtime piece.
Medley - Il Contadino Allegro, the Preacher, the Sinner
is the playful treatment of the theme, which ranges from Robert Schumann to Horace Silver.
What Are You Doing the Rest of Your Life
was originally written by Michel Legrand for the 1969 film
The Happy Ending
. Rosa presents an impressively harmonized realization of the film score.
The rendition of Henri Mancini's
Moon River
picks up speed after a sensitive introduction, then returns to the original tempo with a perfect final chord.
Easy to Love
is a popular song written by Cole Porter for William Gaxton to sing in the 1934 Broadway show
Anything Goes
. Marcello's fresh arrangement gives new pep to the classic.
14 Febbraio
is the Valentine's day. Mario Corvino, Luigino Leonardi, Marcello Rosa form the fascinating triad of this piece. The title song becomes a vibrant end to this compilation. But wait, there are still two encores.
Missy Magnolia Lee
, recorded in June 1974 and a variation of
Il Ladro Di Noccioline
(The Peanut Thief), recorded in the 80's.
Marcello Rosa's
The World On A Slide
is a must for all jazz-inspired friends of the trombone. You can't get more trombone in this style context and everything is just plain perfect.










Buy the album in all stores

Album Information

Title: The World On A Slide
Artist: Marcello Rosa
Year: 2020
Length: 45:42
Genre: Contemporary Jazz
Label: AlfaMusic

Tracks:

1) Toledo (3:35)
2) Autumn Leaves (4:24)
3) Bluestrano (2:52)
4) W Gordon (3:10)
5) Southern Ballad (3:04)
6) Il Ladro Di Noccioline (4:01)
7) Hamptoniana (3:12)
8) Tribute to Kid (1:14)
9) Medley - Il Contadino Allegro, the Preacher, the Sinner (1:44)
10) What Are You Doing the Rest of Your Life (2:29)
11) Moon River (2:59)
12) Easy to Love (1:38)
13) 14 Febbraio (3:33)
14) The World on a Slide (2:40)
15) Missy Magnolia Lee (1:48)
16) Il Ladro Di Noccioline (3:11)




Credits:

Andrea ANDREOLI, trombone
Devid CESTE, trombone
Stefano COCCIA, trombone
Andrea CONTI, trombone
Mario CORVINI, trombone
Matteo DE LUCA, trombone
Diego DI MARIO, trombone
Giovanni DOMINICIS, trombone
Vincent LEPAPE, trombone
Luigino LEONARDI, trombone
Gianfranco MARCHESI, trombone basso
Elisabetta MATTEI, trombone
Massimo MORGANTI, trombone
Francesco PIERSANTI, trombone basso
Federico PROIETTI, trombone basso
Eugenio RENZETTI, trombone
Marcello ROSA, trombone
Roberto ROSSI, trombone
Gabriele SAPORA, trombone
Paolo TOMBOLESI, pianoforte
Luca BERARDI, guitar
Roy PANEBIANCO, guitar
Marco SINISCALCO, bass
Cristiano MICALIZZI, drums
Filippo LA PORTA, percussion