Eddie Russ - See The Light / Take A Look At Yourself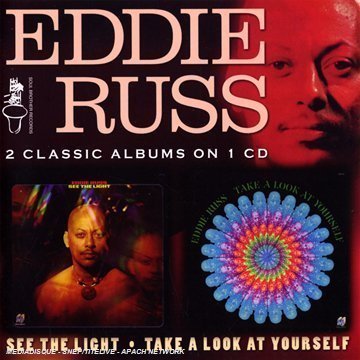 Pittsburgh born keyboardist Eddie Russ played with many jazz greats such alike Benny Golson, Sarah Vaughn, Stan Getz, Sonny Stitt and Dizzy Gillespie in the 60's and early 70's. With his group The Mixed Bag he recorded the album Fresh Out. In 1976 Eddie joined the Monument label, a subdivision of CBS Records. On this label he recorded in 1976 See The Light and 1978 Take A Look At Yourself.
Tracks like See The Light and Zaius produced a great hype in London's Underground and were frequently played by DJ's all over UK especially in the '80s. In his later years he had the opportunity to tour in Europe where his music has been well received. Unfortunately Eddie died in 1996. These concerts were the seeds for the re-release of his best albums on Passion Music.
See The Light was one of the hits of Earth, Wind & Fire's platinum-awarded album That's the Way of the World (1975). This tune is influenced by gospel music and the tribal love-rock musical Hair, which started on Broadway 1968. More propulsive and rhythm-oriented as the original in the introduction Eddie Russ' version softens to a mellow act before it bursts out into a firework of jazz fusion.
The legendary jazz funk track Zaius is still so popular that Incognito made in 2007 together with Linda Lee Hopkins a remake offering several remixes for the dance floor audience. The rhythm enhanced original starts with a Rhodes solo followed by synth, guitar and sax solos accompanied by a rich horn section.
Stop It Now is a tune governed by the pleasure principle. While Wilbert Machen expands his sax solo on a disco stomp, Joan Lumsden pours out lascivious tones.
The luscious and mellow Salem Avenue is surprisingly contemporary. Rhythm, sax interpretation and the swinging sound of the singers could be produced this year.
Tomorrow Is Another Day is a cite of the novel Gone With The Winds which became a commonplace. Jerry Glassel's wah guitar technique is classic and Russ' warm Rhodes sound is impeccable.
The funky jazz fusion track Poko Nose is definitely a groover after all that time. On the essential jazz funk tune Take A Look At Yourself Eddie Russ expands a fantastic keyboard solo with incredible verve.
Don't Ask My Neighbours is featuring female vocalist Jackie Holiday. The tune develops in the style of Earth, Wind & Fire with nice Rhodes gimmicks. Tea Leaves is pure funk. R.C. Crawford's wah guitar is copied by a similar synth sound above all Wilt Machen's sexy sax and Eddie's great Rhodes solo.
The Interlude calms down to some seconds of recreation before the funk restarts with I Want To Be Somebody. Eddie Russ shows in an extensive Rhodes solo his superior position in music history.
You are Feelin' Fine with Eddie's emotional keyboard and synth sound. He has the brilliant and sensible touch of keys. You must be very good to top the music of Quincey Jones. But Eddie did it with his stunning rendition of I Heard That featuring singer Renee Coles in best form. Lay Back is the happy going final of this great double feature.
See The Light / Take A Look At Yourself is a flash back to a time when jazz fusion, soul and pop were melted together into good music. Edgy, jazzy and great fun.




Title: See The Light / Take A Look At Yourself
Artist: Eddie Russ
Year: 2008
Length: 1:11:25
Genre: General Jazz
Label: Passion Music


Tracks:

01 See The Light [7:23]
02 Zaius [5:32]
03 Stop It Now [5:33]
04 Salem Avenue [5:14]
05 Tomorrow Is Another Day [6:39]
06 Poko Nose [5:42]
07 Take A Look At Yourself [5:29]
08 Don't Ask My Neighbours [4:35]
09 Tea Leaves [6:01]
10 Interlude [0:46]
11 I Want To Be Somebody [4:16]
12 Feelin' Fine [6:09]
13 I Heard That [4:23]
14 Lay Back [3:41]