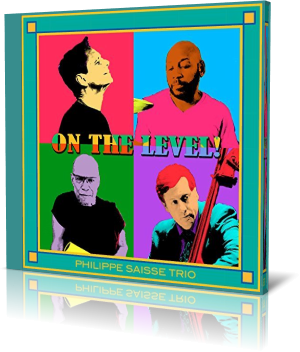 Several years ago I was attracted by excellent music in a hi-fi demonstration room of a large specialist chain. My question about the title of the reference CD the seller answered with the words: "That is The Body and Soul Sessions by the Philippe Saisse Trio".
Since this magic moment I am avidly following Philippe's musical activities with great interest. The mention of his numerous releases as a soloist and a sideman would be beyond the scope of this review. Predecessor of the Philippe Saisse Trio was the Philippe Saisse Acoustique Trio. First releases of this formation were the albums My Favorite Songs: Contemporary Mood and My Favorite Songs: Classic Mood (2000 in Japan and 2003 in USA), and Ready to Go feat. Kelly Sae (2003). The Philippe Saisse Trio followed with The Body and Soul Sessions (2006) and this year with On The Level!
The Philippe Saisse Trio consists of Philippe Saisse (piano, keyboards, vibraphone, marimba), Skoota Warner (drums), David Finck (acoustic bass) and Gumbi Ortiz (percussion and vocals). Guest musicians are guitarist Marc Antoine, vocalists Vanessa Falabella, Rhett George, Kelli Sae, Larry Braggs, keyboardist Tim Akers and his band the Smoking Section.
On The Level is an exquisite piano piece with a sprinkle of world music and an incredibly organic vibe. Not construed or artificial but a magic melody grown from the course. And So But Then is a breathtaking dynamic song almost made from one casting featuring virtuoso guitarist Marc Antoine and pianist Philippe in best form. A masterpiece of smooth jazz.
She Takes My Breath Away presents rising star Rhett George, who has already defined his exceptional profile as R&B singer in numerous musicals and two solo albums. Saisse and Tim Akers and the Smoking Section are celebrating piano attacks with horn inserts accurately as the shots of a Western hero. Lucky Luke hits the mark.
Brazilian vocalist Vanessa Falabella has a repertoire as great as her charm and charisma. Custe O Que Custar is perfectly tailored to her personality. Singer Kelli Sae, best known by the formations Incognito and Count Basic, has a splendid appearance on Star Of My Life. Blue Rondo is not to be confused with Blue Rondo à la Turk by Dave Brubeck. Philippe Saisse has made his own mark in music history.
The Philippe Saisse Trio covers Bobby Hebb's mega hit Sunny in a vocal version with Larry Braggs and an instrumental interpretation. Both have that certain look at the bright side of life with an unbridled joy of creativity that literally jumps in the face.
On Waiting For Valentine Saisse develops a more improvisational conception of his piano art but never loosing sight of the sonic aspect of the melody. Marienbad is a colorful conglomerate of different influences and styles intricately linked to each other without the listener feels their antagonism.
Few of the contemporary music groups have reached a level that recommends each of their songs as an educative lesson. The Philippe Saisse Trio has achieved with On The Level! this artistic Olymp.





Buy the album in all stores

Album Information

Title: Philippe Saisse Trio
Artist: On The Level!
Year: 2017
Genre: Smooth Jazz
Label: Bandar Log Music


1 On The Level 4:41
2 And So But Then 3:54
3 She Takes My Breath Away 4:28
4 Lucky Luke 3:47
5 Custe O Que Custar 6:04
6 Star of My Life 4:52
7 Blue Rondo 5:05
8 Sunny 3:54
9 Waiting For Valentine 5:31
10 Marienbad 5:52
11 Sunny (instrumental) 3:54