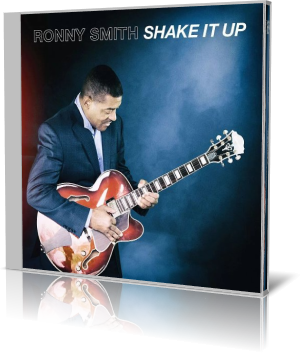 Baltimore based jazz guitarist Ronny Smith is certainly one of the most underrated guitarist in music history. Often compared with George Benson, Wes Montgomery and Joe Pass he has since long time developed his own significant style.
That this unique style appeals the audience, shows the huge amount of releases like Long Time Comin (2001), Laid Back (2002), Got Groove (2006), Simply Stated (2007), Just Groovin (2009) and Can't Stop Now (2013). Shake It Up (2017) is his essential return with a special twist.
Ronny performs on his new album guitars and keys programming. Musical supporters are Conley Whitfield, Jr., Reggie Wilson (bass), Scott Martin (sax), Will Allen (drums), Stan Martin (trumpet), Andy Martin (trombone), Eddy Botts, Jeff Knoetter (keyboards), and Gerald Chavis (muted trumpet). Ronny has written all tracks, which gives a clear hint about his subtle creativity.
With Coast To Coast Ronny ranges widely over the continent embracing his homeland with a soothing melody inspired by Pat Metheny's early works. Scott Martin follows the dynamic line in a call and response style with fine excursions into the world of notes.
Bettin' It All On Black arrives in a funkalicious attitude with a bustling guitar bouncing around the theme with a hip rhythm smartness. Chasing Your Love is characterized by the warm vocal tone of Ronny's punchy guitar, which is elegantly integrated into the flow of the song and aptly underlined by his sing-along. A breath of melancholy flows from Gerald Chavis' muted trumpet, when Ronny is lost in reverie celebrating In the Rain with You.
You like it trendy and modern? Shake It Up is designed for all lovers of a fresh sonic landscape. On Back It Up Ronny expands the tonality of his guitar in single note sequences while the keyboards share the rhythm with Will Allen on drums and Reggie Wilson on bass. Feel for You revels in an array of colors, moods and textures building an appealing makeup of attractive instrumentation. The warm-bodied Dark and Lonely stretches back to Ronny Jordan's initial albums melting vocals and guitar to an irresistibly intimate sonic unit.
End Over End spreads a spiritual connection to the best place, where you feel comfortable. Greatness emerges from simplicity. The Latin tinged When the Sun Goes Down sheds light on Ronny and keyboardist Jeff Knoetter united in an old school groove.
You should always remember, that we have only a few precious joyful moments to share. Ronny Smith's new album Shake It Up is such an exquisite sunshine in our life.




Buy the album in all stores

Album Information

Title: Shake It Up
Artist: Ronny Smith
Year: 2017
Genre: Smooth Jazz
Label: Pacific Coast Jazz


1 Coast to Coast
2 Bettin' It All On Black
3 Chasing Your Love
4 In the Rain with You
5 Shake It Up
6 Back It Up
7 Feel for You
8 Dark and Lonely
9 End Over End
10 When the Sun Goes Down



Further reviews: