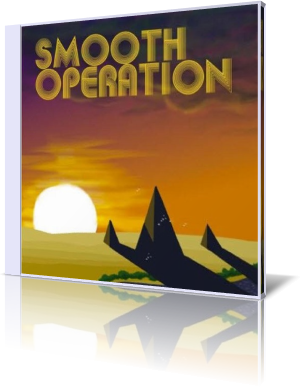 Smooth Operation is a band comprised of Steve Banks on drums, Brett Cimbalik on guitar, Patrick Nakamura on keys, Raphael Banks on bass, Bernard Jackson on vocals, and Herb McGowan on guitar. The group has shown their skills on events in Flint and Detroit over the past 5 years.
During this time the realization grew to become popular beyond the local area. What is more obvious than this, to use the medium of CD to reach this ambitious goal.
After the first notes of the introducing track Z is the impression that this band are followers of the Funk style, we all know from the S.O.S. Band or the Brothers Johnson.
On Ah Yeah the formation approaches the smooth jazz genre, but defines their own musical standpoint by jailbreaking the moderate format with strong synthesizer inserts. In the tradition of jazz by inspirationally reworking the Gershwin classic Summertime vocalist Bernard Jackson shows his quality.
Herbie Hancock's Maiden Voyage is transformed by the group to an eclectic, epic piece with transcendental reach. Through the choice of the synthesizer in place of the piano of course something is lost of the intricacy of the original version. Nevertheless, the richness of the sounds can convince the jazz sceptics.
Smooth Operation's Ah Yeah is always worth a listen. Next year we can expect a continuation.




Biography

Website

Buy the album

Album Information

Title: Ah Yeah
Artist: Smooth Operation
Year: 2012
Length: 0:27:42
Genre: Smooth Jazz
Label: Smooth Operation

Tracks:

01 Z [5:50]
02 Ah Yeah [5:56]
03 Summertime [5:39]
04 Maiden Voyage [10:16]