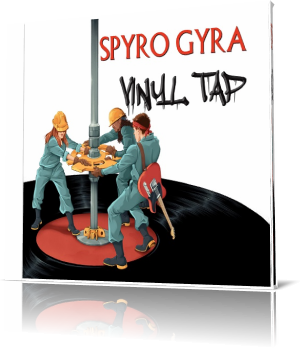 When Spyro Gyra achieved gold status with their second album Morning Dance in 1979, many were of the opinion that the band would continue their success in this style. Forty years later we are wiser. Spyro Gyra has written contemporary jazz on their banner.
Their most recent album is Vinyl Tap, which was released this year. Currently the band consists of saxophonist Jay Beckenstein, keyboardist Tom Schuman, bassist Scott Ambush, guitarist Julio Fernández and drummer Lionel Cordew. In addition, the group is supported on the new album by Gary Schreiner (harmonica), Michito Sanchez (percussion), and Skip Martin (trumpet).
The concept of this album is based on an idea suggested by Spyro Gyra manager Phil Brennan to Jay Beckenstein. An album with covers, however of new freshness through a different approach and an unique arrangement.
Beckenstein comments: "The arrangements were put together with everyone in my basement with all the equipment set up. We were all together in the pre-studio arrangement process. It was all done democratically. Spyro Gyra is a musician's group collective. When you have five talented guys, you can do some cool arranging things."
Secret Agent Mash blends the themes of Secret Agent Man, used as the opening theme for American broadcast of the TV series Danger Man originally interpreted by Johnny Rivers, and Alfie's Theme, composed by Sonny Rollins for the film of the same name (1966). The band tries hard to keep up with the authenticity of the old pieces. For example drummer Lionel Cordew uses the otherwise outdated Tom Toms, Tom Schuman swings on the piano or Jay Beckenstein creates a big band-like sound.
Sunshine of Your Love is a 1967 song by the British rock band Cream with elements of hard rock, psychedelia, and pop. Spyro Gyra surprises with a successful interpretation of Latin Jazz touch. Cordew's perfect drum solo is the icing of the cake.
Can't Find My Way Home is one of genius Stevie Winwood's most impressive songs, which brings his voice to full effect. Spyro Gyra's rendition is a lovingly designed instrumental realization of the song that sets new standards in contemporary jazz.
What a Fool Believes, a song written by Michael McDonald and Kenny Loggins, best-known by The Doobie Brothers (with McDonald singing lead vocals) for their 1978 album Minute by Minute. While the Spyro Gyra's version is rather unspectacular in the first half, the band reaches however its peak in the second half.
The Cisco Kid is a song written and performed by the members of the group War for their album The World Is A Ghetto (1972). A very nice example of how non-conformist the music of the 70s was. Spyro Gyra catches some of that troubled spirit.
You've Got to Hide Your Love Away is a song by the Beatles from their album Help (1965). Spyro Gyra's instrumental cover is certainly one of the most exquisite I've heard so far. Tempted is a single released from Squeeze's fourth album, East Side Story (1981). Spyro Gyra's re-recorded version shines thanks to the qualities of its band members.
Stolen Moments is a jazz standard composed by Oliver Nelson from the album The Blues and the Abstract Truth (1961). This is Spyro Gyra's very own element.
When it comes to vocal harmonies, the supergroup Crosby, Stills, Nash and Young set the reference in terms of quality. Carry On, written by Stephen Stills, is from the album Déjà Vu (1970), an album that set standards in music history and rightly took first place in the charts. You shouldn't compare Spyro Gyra's cover with the original, because the group has put together an energetic package that lives their individuality.
Spyro Gyra's Vinyl Tap is a rare encounter of timeless music and highly professional performance. An album that no audiophile should miss.




Buy the album in all stores

Album Information

Title: Vinyl Tap
Artist: Spyro Gyra
Year: 2019
Genre: Contemporary Jazz
Label: Amherst Records, Inc.

1 Secret Agent Mash 6:05
2 Sunshine of Your Love 4:44
3 Can't Find My Way Home 5:41
4 What a Fool Believes 6:43
5 The Cisco Kid 5:21
6 You've Got to Hide Your Love Away 5:24
7 Tempted 6:42
8 Stolen Moments 6:06
9 Carry On 4:57



Further Reviews:


Wrapped In A Dream