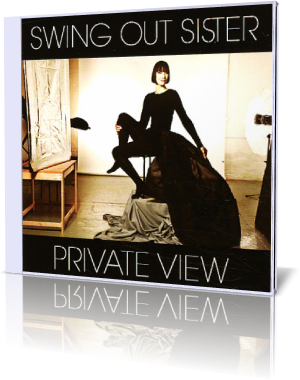 With the song Breakout this band has written music history. The group Swing Out Sister was founded by Andy Connell (keyboards) and Martin Jackson (drums), later joined by Corinne Drewery (vocals), a former model and fashion designer.
Famous for their mix of pop and jazz they had great success with their debut album It's Better to Travel (1987). During the making of their second album Kaleidoscope World (1989) drummer Martin Jackson left the group.
Their new project Private View (2012) is released in USA by Shanachie Entertainment, a special collector box containing a CD, a DVD and an extensive booklet. The CD comprises of an innovative take of known songs with new arrangements.
Corinne explains: "These arrangements were originally created for an east coast tour of America. We were in the last days of rehearsal when a volcano in Iceland erupted, covering Europe in a gigantic ash cloud. We were grounded. Rather than have all the work go to waste, we recorded the arrangements - otherwise no one would have heard them..."
The album starts with the alluring song Incomplete Without You taken from their album Get In Touch With Yourself (1992). More horns and strings as on the original this song is a masterpiece of orchestral smooth jazz. The lead-single of Kaleidoscope World You On My Mind comes with a dark intro before the clouds are expelled from the sunny melody. The style reminds me of Up, Up and Away of the 5th Dimension.
The interlude It May Not Be Enough has a hypnotic semi-instrumental lounge style. The Delfonics' La La Means I Love You was originally covered by SOS on their album The Living Return (1994), an album with a more intimate and soulful style. This version has a greater colorful chorus effect.
And The Flowers Will Grow adds an atmospheric interlude to the album. More earthbounded is Am I The Same Girl? - a vocal version of Young-Holt Unlimited's Soulful Strut, also known by Barbara Acklin and Dusty Springfield. Notgonnachange from Get in Touch With Yourself (1992) receives a slight reassembly.
A new interpretation of their megahit Breakout is always a challenge. The Fabulous Forty Mix is more personal than the original. The band needs nothing more to prove and can concentrate on the melody. Mama Didn't Raise No Fool from the album The Living Return (1998) loses through the orchestral implementation some of his jazzy ease. The instrumental Now You're Not Here is an infectious tribute to the late Cal Tjader presenting synth vibraphone in the lead.
Swing Out Sister's Private View is a little gem for all fans of vocal smooth jazz and sophisticated pop. The album provides an intimate view of the whole work of the group.




Biography

Website


Buy the album in all stores

Album Information

Title: Private View
Artist: Swing Out Sister
Year: 2012
Length: 0:41:53
Genre: Smooth Jazz
Label: Shanachie Entertainment


Tracks:

01 Incomplete Without You [4:55]
02 You On My Mind [3:49]
03 It May Not Be Enough (Interlude) [2:36]
04 La La Means I Love You [4:26]
05 And The Flowers Will Grow (Interlude) [2:25]
06 Am I The Same Girl? [5:40]
07 Notgonnachange [6:38]
08 Breakout (Fabulous Forty Mix) [3:15]
09 Mama Didn't Raise No Fool [4:38]
10 Now You're Not Here (Taj Calder Instrumental) [3:30]