Mary Talbot Fee - Midwinter Night's Dream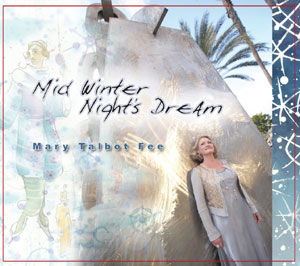 Mary Talbot Fee studied jazz with Kevyn Lettau and others well-respected. After years of rumination and planning she finally released her debut album Midwinter Night's Dream (2009). Upholding the flag of classic jazz style Mary is a glorious fighter for the idols of the past.
Keyboardist Rob Whitlock (Jazz Crusaders, Eddie Harris), bassist Trey Henry (Tierney Sutton), drummer Cliff Almond (Michele Camillo), guitarist Pat Kelley (George Benson), percussionist Luis Conte (James Taylor), violinist Charlie Bisharat (John Tesh) and flutist John Rekevics (Checkfield) along with a talented cast of singers that included Amber Whitlock (Max Bennett) and Kleber Jorge (Sergio Mendes) are supporting Mary on the instrumental and vocal side.
Midwinter Night's Dream is a superb collection of jazz standards, international songs and contemporary compositions. Mary comments: ďWinterís dream enters my slumber, stills my thoughts, and encourages me to rest, renew and restore for the coming yearís journey. I donít fall into the role that people would consider traditional, but I canít let that stop me now. I donít know where my recording will travel, but I know that I did the right thing taking this risk in trying. Itís my turn to express myself fully and I have a lot to express!Ē

The first song If I Had You was originally sung by Ted Shapiro in 1928 and heavily covered by legends like Frank Sinatra, Dean Martin, Les Paul and many more. Mary beautifully captured the charm of the 20's by using the original interpretation and instrumental choice.
Guitarist Django Reinhardt, the innovator of the Gypsy Jazz technique, created the jazz classic Nuages (Clouds). Mary transfers the song into a samba, placed in a Parisian bistro or a "bal musette" nightclub. Eh voila! My gratitude to violinist Charlie Bisharat. Stephane Grappelli couldn't do it better.
The famous Anema E Core was composed by Salve D'Esposito. Grazie a Mary for this Italian rendition. Visit the gulf of Sorrento. It's a fabulous place and don't forget to visit the awesome Amalfi Coast.
Winter Snow Ballet, a composition by Mary Talbot Fee, is a picture of her Winter memories. Flutist John Rekevics lets the notes drop like snowflakes. Cozy and heartfelt.
Norwegian Wood is a song by the Beatles, released on their album Rubber Soul (1965). The most important impact of the song was the use of a sitar by George Harrison creating the Indian style in European and American music. On Mary's rendition the sitar is substituted by Charlie Bisharat's violin. The tune has now a great folk music/jazz appeal.
Henry Mancini composed Moment To Moment for his album A Warm Shade Of Ivory (1969) showcasing his skills as a pianist. Mary Talbot Fee's interpretation is a dark ballade with Latin feelings.
River is a song by Joni Mitchell, from her 1971 album Blue. This famous tune is a modern Christmas standard and newly interpreted by Mary in her own way. Taccani's On An Evening In Roma was very popular by Dean Martin's version. Mary fetches back this ancient song with the flair of the 50's.
Although written by Christina Rossetti before 1872, In The Bleak Midwinter was published posthumously in Rossetti's Poetic Works in 1904 and became a Christmas carol after it appeared in The English Hymnal in 1906 with a setting by Holst. While Mary keeps her song as a carol, one can hear some jazzy undertones of the other musicians.

Stevie Wonder's Knocks Me Off My Feet received a great rendition by the late Luther Vandross. Mary slows down the tempo to a lush jazz ballade. Back to Brazil with Inverno Di Gielo featuring singer Kleber Jorge. This is Copa Cabana.
Midwinter Night's Dream is a collaboration of Rob Witlock and Mary. Rob is a much sought after Hammond B3 organist, who also plays piano and keyboards in addition to producing, writing and arranging. Angela from Antonio Carlos Jobim's album Urubu (1976) is a song with tristresse and melancholy.
I Will Wait For You is a song from the French musical The Umbrellas of Cherbourg (1964). Composed by Michel Legrand and written by Jacques Demy Mary reveals one more time her affection for the ancient time. Stevie Wonder's Bird Of Beauty is perfectly set in scene.
Midwinter Night's Dream is for all jazz aficionados and lovers of jazz ballades.



Title: Midwinter Night's Dream
Artist: Mary Talbot Fee
Year: 2009
Length: 1:13:35
Genre: General Jazz
Label: Sketchin' Records


Tracks:

01 If I Had You [3:05]
02 Nuages [4:51]
03 Anema E Core [4:22]
04 Winter Snow Ballet [5:24]
05 Norwegian Wood (Intro) [1:14]
06 Norwegian Wood [3:32]
07 Moment To Moment [4:47]
08 River [5:04]
09 On An Evening In Roma [2:45]
10 In The Bleak Midwinter [5:28]
11 Knocks Me Off My Feet [4:26]
12 Inverno Di Gielo [5:24]
13 Midwinter Night's Dream [6:47]
14 Angela [3:54]
15 I Will Wait For You (Intro) [0:34]
16 I Will Wait For You [5:57]
17 Bird Of Beauty [6:01]