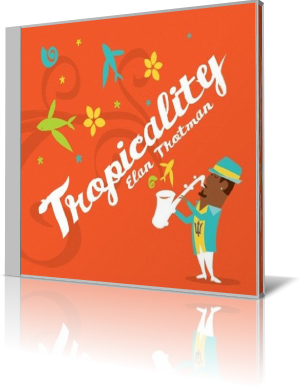 Hailing from Barbados now living in Boston saxophonist Elan Trotman is an integral part of the smooth jazz scene today. His work consisting of Memories - The Debut (2001), influenced by Caribbean music, Letís Have A Good Old Time (2005), a gospel jazz album, A Reggae Christmas (2007), popular Christmas carols in a jammin' reggae style, This Time Around (2009) and Love and Sax (2011 ) is multifaceted.
His third album Tropicality (2013) is like the both predecessors a confession to smooth jazz. With a balanced mix of covers and self written compositions Elan shows his qualification as team worker. He is joined by bassist/producer Nicholas Brancker, guitarists Peter White, U-Nam, Nick Colionne, Fabiano Da Silva, Serghio Jansen, percussionists Luis Conte, Lenny Castro, keyboardist/producer Jeff Lorber, guitarist/producer Paul Brown, drummers Terri Lyne Carrington, Ricky Lawson and Tony Moore, trumpeter Lin Rountree, and bassist Alex Al .
Trotman has chosen as starting tune Stevie Wonder's monster hit Master Blaster. The energetic original is recalculated in Elan's version to the melody sequence enriched with a horn arrangement.
The Caribbean flavored Tradewinds presents guitarist Peter White in his best role, the entertainer. With such excellent musicians like Jeff Lorber, Alex Al and Tony Moore the song Bridgetown to Beantown becomes a pleasure. A little Caribbean and a big dose of contemporary jazz makes it very comfortable. Trotman especially shines on flute and keeps the level with the matadors.
The warmhearted Always with You is a typical production of Peter White and DC. "Anything thatís really weird, you can attribute to DC Ė thatís why I really love working with him. Heíll come up with stuff that I never would have thought of. The stuff that I come up with is usually melodic", comments Peter shrouding the real name of this musician in mystery.
Bob Marley's reggae Wait in Vain has a wonderful rebirth featuring Trotman equally on flute and tenor sax. A Time and Place succeeds thanks to Paul Brown's prowess in the usual elegance. I would await a piece such as Sunset in Paradise on a South African CD. This is quite surprising. Fusing contemporary jazz with a Caribbean beat and other music styles absorbed from his world travels, instrumentalist and vocalist Nicholas Brancker is the originator of this surprise.
The Latin tinged Danca ku mi (Dance with Me) is the ultimate invitation to the dance floor. Emanuela Nadia Alves vocals are very attractive. Funkalypso excels with a fantastic horn arrangement. Terri Lyne Carrington serves an awesome solo on drums and creates more of the Caribbean atmosphere. Tropicality is without a doubt for the romantics. With Island Groove Elan closes the gaps to Dance floor Pop. The Antonio Carlos Jobim song Wave is a professional concession for the friends of Latin jazz.
Elan Trotman's album Tropicality is incredibly varied and will certainly appeal a lot of audience. More can not be expected of entertainment.




Biography

Website


Buy the album in all stores

Album Information

Title: Tropicality
Artist: Elan Trotman
Year: 2013
Length: 0:56:15
Genre: General Jazz
Label: Woodward Avenue Records

Tracks:

01 Master Blaster (Jammin) [4:17]
02 Tradewinds [4:43]
03 Bridgetown to Beantown (Featuring Jeff Lorber) [6:20]
04 Always with You [5:24]
05 Wait in Vain [5:19]
06 A Time and Place (Featuring Paul Brown) [3:37]
07 Sunset in Paradise (Featuring Nicholas Brancker) [4:31]
08 Danca ku mi (Dance with Me) [3:55]
09 Funkalypso (Featuring Terri Lyne Carrington and Lin Rountree) [4:38]
10 Tropicality (Featuring Nick Colionne) [4:35]
11 Island Groove (Featuring Chantel Hamton) [3:57]
12 Wave (Featuring Jeff Lorber) [5:00]

Further reviews: