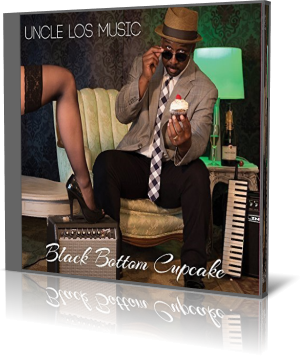 San Francisco/Bay Area composer, arranger and multi instrumentalist Carlos Sanders aka Uncle Los, has assembled a group of prolific musicians to create the finest smooth jazz you can imagine.
Among them are Ced Dennis (guitar), Joel Griffin and Jay Lane (drums), Vic Little and Ari Cap (bass), and Michael Spiro (percussion). The horn section encompasses Clifford Brown III (trumpet) and Tony Peebles (sax). Together they are Uncle Los Music.
The formation started with Say Something (2013) and now returns with the delicious desert Black Bottom Cupcake (2018). The term Muse comes from Greek mythology and commonly describes a female person of divine origin, who inspires the artist to creative action. The music style of Uncle Los Music is based on an urban mix of R & B, funk and jazz rock.
How We Roll conjures the motto of positive thinking and life in an upbeat way. Jeff Lorber's Rain Dance might have influenced the contemporary instrumental Sense Memory. Carlos Sanders, who has written all tracks, has a mind blowing talent in composing and performing.
He is also fortunate enough to find the gifted singer Mickala Cheadle who makes the song Lasting Love to a touching moment. Fort Pointe is a rare gem of genuine contemporary jazz giving the musical bird a free flight on all instruments. The emotional Cat People features a unique combination of Sanders on harmonica and Victor Little on bass.
Black Bottom Cupcake reveals the strong synergy of the group featuring Tony Peebles' excellent sax solo. On Child Of The Sun shines vocalist Mike Cheadle in soul searing beauty, while Ced Dennis builds the edgy counterpoint on guitar.
Flow is the mostly sought after impetus of every group. Uncle Los Music has a very individual conception of the term. So Right illustrates by melody, choice of instruments, and interpretation the will of the group to go their own way.
Uncle Los Music takes on Black Bottom Cupcake the term independent seriously. They have immortalized diversity with capital letters on their banner.




Biography

Website


Buy the album in all stores

Album Information

Title: Black Bottom Cupcake
Artist: Uncle Los Music
Year: 2018
Genre: Smooth Jazz
Label: Independent


Tracks:

1 Muse 5:12
2 How We Roll 4:47
3 Sense Memory 3:13
4 Lasting Love 4:49
5 Fort Pointe 4:22
6 Cat People 4:05
7 Black Bottom Cupcake 3:33
8 Child of the Sun 4:48
9 Flow 4:27
10 So Right 4:20