Various Artists - Grooves For The Season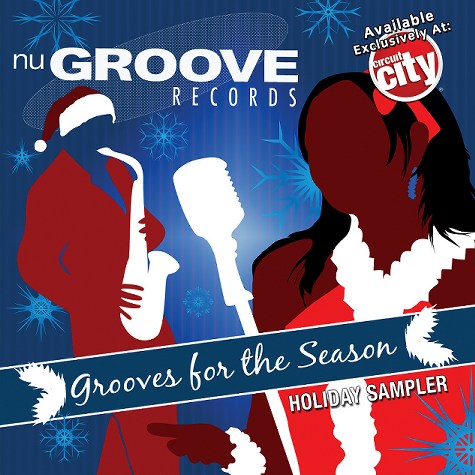 Same procedure as every year? Soon is Christmas time again and as celestial heralds arrive Christmas albums on our table. Grooves For The Season is a special Christmas album. Released by nuGroove Records this album is currently exclusively available at Circuit City. We all know about the fate of this chain. So I recommend to catch your copy as soon as you can.
On this holiday sampler nuGroove Records presents its artists with a great spectrum of Christmas songs.
The album starts with Jay Soto's We Three Funky Kings. Guitarist Jay Soto has already released the albums Long Time Coming (2005) and Stay Awhile (2007), his debut on nuGroove Records. Jay's comment: "Most of the songs on both albums are representative of who I am as a person." Logically consistent therefore is his funky approach to this old Christmas hymn.
Darren Rahn showcases Angels We Have Heard on High. Darren garnered as the producer and saxophonist on Wayman Tisdale 's Ain't No Stoppin' Us Now his first hit on the smooth jazz charts. His album on nuGroove Records is titled Once in a Lifetime. Which will hopefully not be his recording maxim. From a late medieval Latin chorale to an uptempo uplifting contemporary jazz song, what a giant step.
Gail Jhonson has a special relationship to Christian music. She was scoring and director music for gospels performances: Saving Grace and Reason For The Season, written by Dennis Rowe. Keep The Music Playing (2004) and Pearls (2008) are certainly two powerful arguments to buy her music. Her interpretation of Come All Ye Faithful is respectful, moderate and nevertheless impressing.
Since March 2008 a US citizen, Michael Lington has already established himself in the smooth jazz scene. His newest album Heat (2008) presents such top-notch vocalists like Aaron Neville, Keely Hawkes, Janey Clewey and Ace Young. Silent Night is the classical Christmas song "par excellence". The song was originally composed by Franz Xaver Gruber in 1818. Michael's rendition is heartfelt and soulful.
It's the mesmerizing fusion of smooth jazz and r&b which makes No Time To Waste (2006)so irresistible. A perfect start for the high-talented guitarist Dee Brown. Listen to Hark The Herald Angels Sing / Sleighride Medley with a complete new twist.
More than 70 minutes of cool music is waiting for you on Bob Baldwin's new album Newurbanjazz.com (2008). If this sound cannot transform you into a funky music junky you will stay an eternal wet blanket! Oh Come All Ye Faithful / Behold Him Medley shows key-wizard Bob in best form.
With Tippin on the Edge of Funk (2007) created J. Dee his own Dee-style. J. Dee delivers We Three Kings with a jazzy swing. An oriental touch like a snake charmer.
One never knows what happens when a female Pop vocalist is performing with a jazz instrumentalist. In this case Dénaté is a kind of miracle. The child of this collaboration is titled Reminisce (2008). Their Christmas Bells Medley is graced by Deborah Connor's uniquely intricate vocal styling.
One Night Live (2008) is for all friends of Steve Oliver's music the best what you can get. The CD/DVD set exactly captured the atmosphere at the State Theatre in Modesto. A wonderful venue perfectly set in scene. Steve Oliver's contribution Carol Of The Bells is a choral miniature work originally composed by the Ukrainian composer and orthodox priest Mykola Dmytrovych Leontovych and masterly transformed by Oliver to modern times.
It's hard to say if Andre Delano is a better saxophonist or a better singer. All in all emotional music is his domain and there is no better and comfortable way to elicit sympathy or tenderness than with his debut on nuGroove Records called My So Fine (2008). Jolly Old St. Nicholas is a traditional American carol generally considered anonymous, although it may have been written by Wilf Carter. Andre finds his sensitive interpretation.
Michael Manson delivers a miracle of bass. His newest album Up Front (2008) is a remarkable example of musical versatility. Angel Serenade is a slow ingratiating tune with Kirk Whalum's shimmering sax taken from Michael's debut album The Bottom Line.

Shilt's Jigsaw Life (2008) is a further milestone in Paul Weimar's personal development as sax player and a superb musical explanation for his own way. Have Yourself A Merry Little Christmas is a Christmas song introduced by Judy Garland in the 1944 MGM musical Meet Me In St. Louis. Shilts' rendition incorporates the nucleus of this fine hymn.
Grooves For The Season is a delightful gift for your Christmas (turn)table. A wonderful introduction to the world of nuGroove Records.



Label Website

Buy the album


in the stores of Circuit City

at NuGroove Records


Title: Grooves For The Season
Artist: Various Artists
Year: 2008
Length: 0:48:32
Genre: General Jazz
Label: Nu Groove


Tracks:

01 We Three Funky Kings / Jay Soto [3:29]
02 Angels We Have Heard On High / Darren Rahn [3:58]
03 Come All Ye Faithful / Gail Jhonson [4:23]
04 Silent Night / Michael Lington [3:32]
05 Hark The Herald Angels Sing/Sleighride Medley / Dee Brown [3:48]
06 Oh Come All Ye Faithful/Behold Him Medley / Bob Baldwin [5:54]
07 We Three Kings / J. Dee [3:36]
08 Christmas Bells Medley / Dénaté [3:33]
09 Carol Of The Bells / Steve Oliver [3:40]
10 Jolly Old St. Nicholas / Andre Delano [3:56]
11 Angel Serenade / Michael Manson [5:20]
12 Have Yourself A Merry Little Christmas / Shilts [3:23]