Various Artists - The Sound of Jazz FM 2008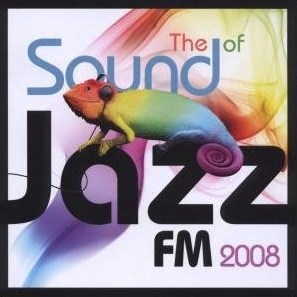 Jazz FM started as local station in London in February 1990. GMG Radio rebranded the station as 102.2 Smooth FM in June 2005. But the station still broadcast on DAB, Sky Channel 0202 and online at www.jazzfm.com. The history of Jazz FM is published at Nationmaster. Jazz FM released a lot of albums during the last 15 years. A discography of all albums is listed at the above mentioned link.
Their newest compilation is entitled The Sound of Jazz FM 2008 and was released in October 2008 on Expansion Records. Jazz FM presents a programmatic mixture of soul and smooth jazz on two CDs.
Chaka Khan starts the first CD with her mega-hit What 'Cha Gonna Do For Me. The album was released in 1981 on Warner Brothers. The song is a good example for Chaka's flawless superior vocals framed by a perfect arrangement.
Bobby Womack's How Could You Break My Heart is not the simple phone-call song one can assume at first. The song was released on Roads of Life in 1979 showcasing Bobby's matured vocals in the style of James Brown backed by Moten's excellent keyboard sounds.
A fantastic revival of Barry White's Never Never Gonna Give You Up gives us Wayman Tisdale featuring Toby Keith. Instrumental and vocal bass in a festival of emotion. The old song gets a new sense in the face of Wayman's fate.
Master of falsetto Rahsaan Patterson presents Stop Breaking My Heart from his album Vines and Spirit (2007). His vocals sounds similar to Kenny "Babyface" Edmonds who had great hits in the past as interpreter, producer and songwriter and there is a good chance that Rahsaan will have the same success.
Sax players Jeff Kashiwa, Steve Cole and Kim Waters are touring as The Sax Pack. The hot show of three sax men was the initial ignition for their album The Sax Pack (2008), which received rave reviews. Falling For You is taken from this album and is the essence of this group. We will hear more from this mesmerizing package in the near future.
On I've Been Waiting shines diva Maysa Leak, the queen of soul. Maysa has seen and felt the ups and downs of life (she wrote it all down in her public diary). Who can better sing about longing for the ideal man than Maysa? She has the emotional power. On January 27th, 2009 Heads Up International will release a remixed version of Tales From The Beach under the title More Tales Remixed.

The voice of late Lou Rawls is unique and recognizable. It's Supposed To Be Fun was released in 1990 on Blue Note Records and is a milestone in soul history. Ebony Alleyne's In Love With A Stranger was released on Expansion Records in 2007 as part of the album Never Look Back. This young awesome soul diva can really compete with every female singer worldwide.
Grammy-nominated platinum-selling R&B and soul singer Eric Benét sings Pretty Baby from his album Hurricane (2005). The song describes a pretty woman still searching for the right man. George Duke showcases on Listen Baby from Dukey Treats (2008) that he still has a interesting and young voice. He presents the same style like the late Donny Hathaway. Legends never die.
Soul and jazz vocal stylist Leon Ware shows with Smoovin' (Moonride) more of his delicate vocals. Leon is always a favourite of Jazz FM's selection. Swing Out Sister teams up with the lush Butterfly from Beautiful Mess (2008). Can someone explain why so many great UK bands are releasing albums in Japan instead of Europe?
L.A. based contemporary jazz and rhythm and blues artists LA Chillharmonic is Richard Smith's brainchild. Lovers of acoustic instruments will appreciate the warm sound of bass (Brian Bromberg) and guitar (Richard Smith) in perfect harmony of the singers making Gift so appealing.
British singer, songwriter, and pianist Jamie Cullum has a raw irresistible voice performing Our Day Will Come (Catching Tales) in his own irrepressible way. As a reminiscence to the first performers of this song this version contains a sample played by Ruby & The Romantics.
The unforgettable Luther Vandross sings the title song of Always & Forever - The Classics (1994). The sultry song stays in your mind an heart.
The second CD is started by GRAMMY-winner Anita Baker's Giving You The Best That I Got. The title track was released in 1989 and received platinum status reaching #3 of Billboard charts. Anita's interpretation is the incorporation of emotion.
Los Angeles-born Gerald Albright is a sax player of his own class. Never Can Say Goodbye is another eternal hit written by Clifton Davis and performed by the Jackson 5 (1971) featuring Michael Jackson. Later the song was covered by Gloria Gaynor, The Communards, Joey Summerville, Isaac Hayes, Cal Tjader and many more. Gerald's version features singer Will Downing, with whom he released the album Pleasures Of The Night (1998).

Downbeat Magazine describes Phil Perry as "Pavarotti of Jazz". The song Desire is taken from his album Ready For Love (2008). The passionate ballade was successful on many radio stations.
British born guitarist Chris Standring has find the golden key to a glorious career. Love & Paragraphs from Chris' newest album (2008) is a big runner. All over the radio waves this captivating song is haunting you. The seductive guitar refrain is just as addictive as the lead melody and Mary Cassidy's breath of air is the icing on the cake.
Maysa is the undisputed diva of soul. In Never Really Ever taken from her album Metamorphosis (2008) Maysa complains the lost of a beloved friend. But it's also the message to never ever gonna give it up. Especially in such themes Maysa puts all her passion.
Ashford & Simpson, singers, writers and married couple. Love It Away from their album Street Opera (1982) clarifies how long this duo is already successful.
American jazz and rhythm and blues trumpeter Donald Byrd and 125th St, N.Y.C. recorded I Feel Like Loving You Today composed by Isaac Hayes for the album Love Byrd (1980). Isaac played on this album piano and some other keys. A real classic tune long-time before the term smooth jazz was created.
Chanté Moore's fifth album Love The Woman was released in 2008, a decade since her previous album. The Bossa Nova song First Kiss opens a new side of this multi-faceted singer.
Kloud 9 are the talented and blessed brothers Kelvis and Kendall Duffie. From their new album Enjoy The Ride (2008) is the song All That Matters featuring sax player Donald Hayes. Something for body, heart and soul.
Phyllis Hyman was known for her sophisticated ballads. Although mostly singing R&B she also sang jazz with Joe Sample, Grover Washington Jr. and McCoy Turner. On Sleep On It taken from the album Between The Heartaches (2003) Phyllis offers with her sultry voice a receipt which she unfortunately didn't practise.
Brian Culbertson brings back the funk on the uplifting instrumental Always Remember in the style of Earth, Wind and Fire, whose music influenced a whole generation. Maurice White himself observed Brian's recording with great pleasure.
Great crooner Howard Hewett shows his vocal skills on How Do I Know I Love You from It's Time (1994). A fantastic meet again with the passionate singer of Shalamar.
The renaissance writer/producer Preston Glass offers music as medicine with Love Will Get Us Through The Times featuring singer Latoya London. Preston comments: "Because of the way that music has always been a healing force, a feel-good source, and a life-saving course in my life, I wanted to do a project that had that effect on those that would hear it. Whether it's the melody, the lyric, or just the sheer groove, I set out composing and arranging songs that had the thread of "soul-stirring" and "heart touching". Preston combines strong melodies with irresistible loops to chart breaking hits.

Keyboard wizard Jeff Lorber chose Amy Winehouse's popular Rehab (Heard That) for his burning rendition. Mixed by Paul Brown Jeff created with the support of Rick Braun, Gary Meek and Tony Moore an infectious dance floor runner.
Singer and professor of voice Marlon Saunders provides much of Jazzhole's signature soulful sound. Lowdown is taken from Jazzhole's fifth album Poet's Walk (2006), a re-interpretation of Boz Scaggs' original from his album Silk Degrees. Beside Marlon's impressing vocals shines percussion star Daniel Sadownick.
Compiled by Ralph Tee (Expansion Records) and Steve Quirk (JazzFM) The Sound of Jazz FM 2008 is a full-bodied and nutritious essence of soul and smooth jazz. Classic and new soul combined with contemporary smooth jazz, a festival of high-end music.



Title: The Sound Of Jazz FM
Artist: Various Artists
Year: 2008
Length: 1:10:18
Genre: Soul / Smooth Jazz
Label: Expansion Records

Tracks:

CD 1

01 What 'Cha Gonna Do For Me / Chaka Khan [3:57]
02 How Could You Break My Heart / Bobby Womack [5:18]
03 Never Never Gonna Give You Up / Wayman Tisdale feat. Toby Keith [4:50]
04 Stop Breaking My Heart / Rahsaan Patterson [4:55]
05 Fallin' For You / Sax Pack [3:33]
06 I've Been Waiting / Incognito [4:26]
07 It's Supposed To Be Fun / Lou Rawls [5:18]
08 In Love With A Stranger / Ebony Alleyne [4:23]
09 Pretty Baby / Eric Benét [4:56]
10 Listen Baby / George Duke [5:38]
11 Smoovin' / Leon Ware [5:08]
12 Butterfly / Swing Out Sister [4:41]
13 Gift / The LA Chillharmonic feat Richard Smith [4:22]
14 Our Day Will Come / Jamie Callum [3:57]
15 Always And Forever / Luther Vandross [4:54]


CD 2

01 Giving You The Best That I Got / Anita Baker [4:22]
02 Never Can Say Goodbye / Gerald Albright Feat. Will Downing [4:20]
03 Desire / Phil Perry [4:39]
04 Love & Paragraphs / Chris Standring [3:53]
05 Never Really Ever / Maysa [3:46]
06 Love It Away / Ashford & Simpson [4:28]
07 I Feel Like Loving You Today / Donald Byrd [6:59]
08 First Kiss / Chanté Moore [2:49]
09 All That Matters / Kloud 9 [4:43]
10 Sleep On It / Phyllis Hyman [3:23]
11 Always Remember / Brian Culbertson [4:26]
12 How Do I Know I Love You / Howard Hewett [4:20]
13 Love Will Get Us Through The Times / Preston Glass Feat. Latoya London [3:43]
14 Rehab / Jeff Lorber [3:19]
15 Lowdown / Jazzhole Feat. Marlon Saunders [4:34]