Noel Webb - Give It All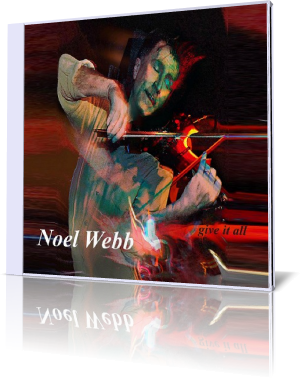 That guitarists are fans of Jimi Hendrix is a common thing, but that a violin player is a disciple of this guitar hero, is somehow unusual. We are talking about the violinist Noel Webb who discovered new directions of music.
Beside his live as an actor (General Hospital, Mad About You, FBI-Untold Stories, etc), and as a writer of film scores (History of Violence, Butterfly Effect, 2 Fast 2 Furious, Seabiscuit, etc.), he is also a passionate musician. Webb performed with blues legend John Hammond, John Coltrane's band, Grover Washington, Jr. and rock icons like Blood, Sweat and Tears, The Tubes and REO Speedwagon.
His previous solo projects are Satin Sheets (2000), The Soul Of (2003) and the single The Big Bang (2007).
His new album Give It All (2009) offers only five tracks. Noel explains: "I really wanted to create something that was easily accessible for fans, yet reflected the intensity of my live performances. There isn't any filler in this CD. All five songs are rock solid as a collection, yet each one is packed with enough energy to stand alone as a single download. Fans are demanding better quality for their money and I intend to give it to them."
Noel keeps his promise. Undeniable shows The Ride an appealing aura of Noel's music. That can partly be put down to the fact, that Noel performs an electric five-string violin with an unique and powerful sound. It's a Zeta Jazz Fusion JV 45 violin with a glossy black piano finished body.
Where is the Love was written by Ralph McDonald and William Salter and achieved worldwide popularity by Roberta Fleck and Donny Hathaway (1972). On Noel's interpretation Trena Steward and Joel Gaines sing the vocal part and they sound terrific with Noel's violin lines.
On Take the Journey Noel continues his mighty detailed bowing while Joel Gaines shines with a brilliant running on piano and keyboards. Also remarkable Eric McKain and his subtle percussion work.
Noel Webb swings on She's a Tease his bow in precise curves. Fortissimo moments are answered with some timbales echoes. Joel Gaines sets jazzy accents on piano. Joel is an experienced session player who already performed with Bryan Savage, Andre Delano, The Jazz Crusaders and others.
With Cool finish this excellent formation a formidable album. For friends of the electric violin a banquet of fine music. For newcomers a pleasant surprise and discovery.



Noel Webb - Website

Buy the album


Album Information
Title: Give It All
Artist: Noel Webb
Year: 2009
Length: 0:22:23
Genre: General Jazz
Label: Red Lab Records

Tracks:

01 The Ride [4:43]
02 Where is the Love [3:58]
03 Take the Journey [4:09]
04 She's a Tease [4:33]
05 Cool [5:00]