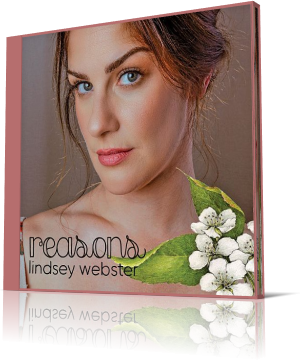 Just as she appeared out of nowhere, Lindsey Webster has established herself as one of the few vocalists on the instrumental dominated smooth jazz scene.

After her self-titled debut album (2013), followed You Change (2015) Back To Your Heart (2016), Love Inside (2018) and A Woman Like Me (2020). Her new album Reasons is just released on Shanachie Entertainment.
Lindsey considers her new album the first to showcase herself, rather than emulating other vocal celebrities as on previous ones. She comments: "This album speaks to what I want and in return I think that it will connect with my audience in a deeper way."
A lavish production as can be seen from the credits. The mainstay of the recordings, as on her previous albums, is her longtime companion and ex-husband Keith Slattery. Otherwise, respectable guest musicians such as Brian Culbertson, Nathan East, Randy Brecker, Kev Choice, and Nicholas Payton give their all.
Of course, the album also bears biographical traits and is a reflection of her changeable life in her younger years. After all, her relationship with her musical genius Keith Slattery was marked by ups and downs, which she also processes in her songs.
So her songs are not an object but an expression of her personality and experiences. The lyrics can be taken at their word. The album opens with the perfectly arranged I Didn't Mean It, sensitively accompanied by Brian Culbertson on trumpet and trumpet, which somehow can be interpreted like an apology.
Love Of Your Life can definitely be understood ambiguously, as Lindsey is in tension between her old and new love. Lindsey perfectly understands how to harmonize her voice with her background vocals and add further nuances that broaden her vocal range. Another highlight of this piece is the interlude of bassist Nathan East, who also accompanies himself vocally on his instrument.
In Just The Night, Lindsey feels the contradictions in her new relationship, which also have their edges. Opportunity to reflect on her new connection and what she herself hopes and envisions for it.
Stay With Me differs from her previous style as Lindsey drifts into R&B territory featuring hard drum programming and rapper Kev Choice with horn injections by famous Randy Brecker. As a result, the mix is right and brings a breath of fresh air.
Familiar from the musical structure of other songs, the piece Wish You Well is particularly convincing due to the lively use of brass. Lindsey considers The Way the best song she has written to date. She obviously feels consolidated in her personality without being dependent on a partner.
The best comes at the end, in this case it's the final song I'm Ok, which left a lasting impression on me with Melvin Jones' horn inserts and Nicholas Payton's superb trumpet solo.
Lindsey Webster has delivered an album with Reasons that, because of her personality and vocal abilities, is outstanding in its way and has even gained the recognition of singing legends like Maysa.




Biography

Website


Buy the album in all stores

Album Information

Title: Reasons
Artist: Lindsey Webster
Year: 2022
Genre: Smooth Jazz
Label: Shanachie Entertainment


Tracks:

1) "I Didn't Mean It (feat. Brian Culbertson)" (5:52)
2) "Love Of Your Life (feat. Nathan East)" (5:50)
3) "Just The Night" (4:34)
4) "Stay With Me (feat. Randy Brecker & Kev Choice)" (5:43)
5) "Wish You Well" (5:47)
6) "The Way" (4:52)
7) "4am Interlude" (1:46)
8) "Twin Flame" (5:39)
9) "You Take Me" (5:28)
10) "Reasons" (5:18)
11) "I'm Ok (feat. Nicholas Payton)" (6:06)


Further reviews:

You Change

Back To Your Heart

Love Inside

Credits:


I Didn't Mean It (feat. Brian Culbertson)


Lead & Background Vocals: Lindsey Webster

Trombone/Trumpet: Brian Culbertson

Keyboards: Keith Slattery

Guitar: Chris Harris

Bass: Chris Snowden

Drums: Lil* John Roberts

Saxophone: Ken Gioffre

Percussion: Lenny Castro



Love of Your Life (feat. Nathan East)


Lead & Background Vocals: Lindsey Webster

Bass Solo/Vocal: Nathan East

Keyboards: Keith Slattery

Acoustic Guitar: Chris Harris

Bass: Chris Snowden

Drums: Lil' John Roberts

Percussion: Lenny Castro



Just the Night


Lead & Background Vocals: Lindsey Webster

Keyboards/Synth Bass: Keith Slattery

Guitar: Tony Pulizzi

Drums: Lil* John Roberts


Stay With Me (feat. Randy Brecker & Kev Choice)


Lead & Background Vocals: Lindsey Webster

Flugelhorn: Randy Brecker

Rap: Kev Choice

Keyboards: Keith Slattery

Guitar: Mike DeMicco

Bass: Chris Snowden

Drums/Programming/Percussion: LT John Roberts

Percussion: Lenny Castro


Wish You Well


Lead & Background Vocals: Lindsey Webster

Keyboards: Keith Slattery

Bass: Chris Snowden

Drums: Lil' John Roberts

Arrangement, Trumpet, & Trombone: Melvin Jones

Tenor Sax: Mike Burton



The Way


Lead & Background Vocal: Lindsey Webster

Keyboards/Synth Bass: Keith Slattery

Guitar: Mike DeMicco

Drums: Lil' John Roberts

Percussion: Lenny Castro


4AM


Lead Vocals: Lindsey Webster

Keyboards: Keith Slattery

Guitar: Tony DePaolo

Bass: Chris Snowden

Drums: Lil' John Roberts


Twin Flame


Lead & Background Vocal: Lindsey Webster

Keyboards: Keith Slattery

Guitar: Tony DePaolo

Bass: Chris Snowden

Drums: Lil' John Roberts


You Take Me


Lead & Background Vocals: Lindsey Webster

Keyboards: Keith Slattery

Guitar: Tony DePaolo

Bass: Chris Snowden

Drums: Lil' John Roberts


Reasons


Lead & Background Vocals: Lindsey Webster

Keyboards/Synth Bass: Keith Slattery

Drums: UI' John Roberts


I'm OK (feat. Nicholas Payton)


Lead & Background Vocals: Lindsey Webster

Trumpet Solo: Nicholas Payton

Keyboards: Keith Slattery

Guitar: Mike DeMicco

Bass: Tres Gilbert

Drums: Lil' John Roberts

Percussion: Curtis McCain

Horn Arrangement, Trumpet, & Trombone: Melvin Jones

Tenor Sax: Mike Burton