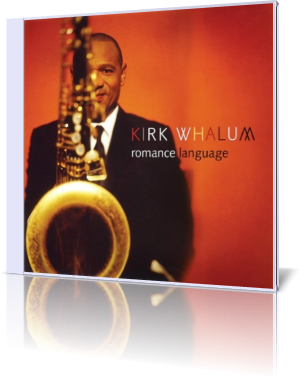 Kirk Whalum is since decades one of the leading saxophonists in gospel music and smooth jazz. With his friendly attitude and his expressive benevolence he permanently conquered the hearts of his audience.
His new album Romance Language is scheduled for release on February 14, 2012, the perfect gift for Valentine's day. The recording team comprises of Kevin Whalum and Hugh Whalum (vocals), Marcus Finnie (drums), Braylon Lacy (bass), Kevin Turner (guitar), Michael Ripoll (acoustic guitar), Ralph Lofton, (organ), John Stoddart (keys), Bashiri Johnson and Javier Solis (percussion) and George Tidwell (flugelhorn & trumpet).
In 1963 saxophonist John Coltrane and singer Johnny Hartman recorded the same titled album presenting six captivating songs over only half an hour. Scott Yanow described the jazz album as classic and essential. Whalum creates with Romance Language a remake of this project adding four more songs to his album.
Irving Berlin composed the song They Say It's Wonderful for the musical Annie Get Your Gun (1946). Kirk transfers the original to a contemporary version, while his brother Kevin takes over Johnny Hartman's part showcasing his impressive and captivating vocals.
Dedicated To You was already a classic by Andy Kirk, when Hartman interpreted the song in a slightly pathetic way. Fortunately Kevin Whalum refurbishes the song with his natural timbre.
My One And Only Love by Guy Wood is a popular jazz standard covered for example by Chris Botti, Gerald Albright or Joe Sample. Although Kevin's voice has the velvet touch of earlier jazz singers he avoids any affectation and interprets the song with an authentic character.
Crooner Hartman is known by Lush Life as his signature song. With great respect Kevin adapts his position and makes the song to his own. The song You Are Too Beautiful was written by Richard Rodgers and was first performed by Al Jolson in 1933. Whalum presents a contemporary R&B influenced version.
On Autumn Serenade Whalum allows some Latin music influence in the jazzy interpretation. Michael Ripoll adds Spanish guitar flavor to the song, while Kevin Whalum shines in the habitus of Hartman. Whalums 83-year-old uncle Hugh "Peanuts" Whalum proves with Almost Doesn't Count, that a high age isn't relevant for a true musician.
Tony and Grammy Award Winner Heather Headley's song I Wish I Wasn't is gently interpreted in Whalum's instrumental treat. Joe's popular song I Wanna Know was already covered by Brian Culbertson and Walter Beasley. Whalum adds his ultimate romantic rendition to this list. Eric Benét's and Tamia's Spend My Life With You undergoes a musical continuation.
If you are on the search after a romantic album for your best hours, Kirk Whalum's Romance Language is with a wide margin the best recommendation for you.




Website


Buy the album in all stores

Album Information

Title: Romance Language
Artist: Kirk Whalum
Year: 2012
Length: 0:55:11
Genre: General Jazz
Label: Rendezvous Music

Tracks:

01 They Say It's Wonderful [5:33]
02 Dedicated To You [5:10]
03 My One And Only Love [5:35]
04 Lush Life [6:16]
05 You Are Too Beautiful [8:33]
06 Autumn Serenade [5:05]
07 Almost Doesn't Count [4:11]
08 I Wish I Wasn't [4:49]
09 I Wanna Know [5:14]
10 Spend My Life With You [4:46]





Further reviews:


The Gospel According To Jazz Chapter III