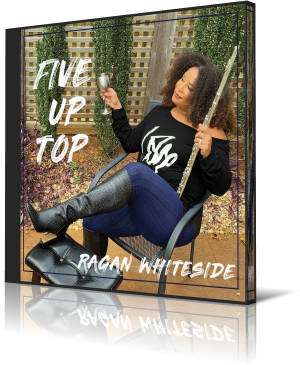 Meanwhile, there are some excellent female flutists to be discovered in the smooth jazz genre. Althea Rene, Kim Scott and Ragan Whiteside are among them the best known and rightly the most popular. Ragan has captured our hearts with her albums Class Axe (2007), Evolve (2012), Quantum Drive (2014), and Treblemaker (2017). She goes one better with Five Up Top (2020).

Many of their long-time companions have also participated in this music project as can be easily seen from the credits. A particularly close cooperation connects her with keyboardists and producers Dennis Johnson and Bob Baldwin, with whom she has realized all her albums.

On the opener JJs Strut Ragan unfolds the beauty of her instrument in the appropriate musical setting. This piece's cheerfulness reflects the joyous nature of Ragan's daughter, Moxie. Trumpet player Willie Bradley also supports Ragan with some fine chords. She guested in return on his chart breaker It's On Now.

Melodies like Jam It are easily accessible due to their structure and thus have what it takes to become a popular hit. The Billboard charts confirm this impression.
Reminiscing is a 1978 song by Australian soft rock music group Little River Band, from their album Sleeper Catcher. A song that draws its emotional touch not only from the lyrics but also from the melody and is therefore highly recommended as a basis for an interpretation. Ragan, with her tender flute, executes the melody admirably and adds choral moments as well.
12 Bean Soup is a soup dish that consists of 12 types of beans. Ragan recalls her Bronx roots with this piece. Phil Hamilton on guitar and Bob Baldwin on piano gladly embrace the theme before Ragan, in her inimitable style, takes this to its climax.
Flying On 75 is an incomparable experience since this Learjet exists. The lightness of flight corresponds to the lightness of being as only Ragan knows how to capture it in notes.
Ragan Whiteside delivers with Five On Top milk and honey and is painting with chocolate. Only Ragan can combine so much sweetness on one CD.





Biography

Website


Buy the album in all stores

Album Information

Title: Five Up Top
Artist: Ragan Whiteside
Year: 2020
Length: 0:22:15
Genre: Smooth Jazz
Label: Randis Music


Tracks:

1) JJs Strut (4:12)
2) Jam It (4:01)
3) Reminiscing (4:00)
4) Bean Soup (4:14)
5) Flying On 75 (5:47)


Credits:

1. "JJ's Strut"
Written by Dennis Johnson, Bob Baldwin, Ragan Whiteside
Produced by Dennis Johnson and Bob Baldwin
Flute: Ragan Whiteside
Guitar: Tony Bunch
Trumpet: Willie Bradley
Drums & Keyboards: Dennis Johnson
Keyboards: Bob Baldwin

2. "Jam It"
Written by Ragan Whiteside and Bob Baldwin
Produced by Dennis Johnson and Bob Baldwin
Flute: Ragan Whiteside
Drums & Keyboards: Dennis Johnson
Keyboards: Bob Baldwin

3. "Reminiscing"
Written by Graham Goble
Produced by Dennis Johnson and Bob Baldwin
Flute & vocals: Ragan Whiteside
Guitar: Phil Hamilton
Drums & Keyboards: Dennis Johnson
Keyboards: Bob Baldwin

4. "12 Bean Soup"
Written by Dennis Johnson, Bob Baldwin, and Ragan Whiteside
Produced by Dennis Johnson and Bob Baldwin
Flute: Ragan Whiteside
Guitar: Phil Hamilton
Piano and keyboards: Bob Baldwin
Drums & Keyboards: Dennis Johnson

5. "Flying on 75"
Written by Ragan Whiteside and Bob Baldwin
Produced by Dennis Johnson, Bob Baldwin, and Ragan Whiteside
Flute: Ragan Whiteside
Percussion: Chembo Corniel
Drums & Keyboards: Dennis Johnson
Keyboards: Bob Baldwin




Further Reviews:


Quantum Drive

Evolve

Treblemaker