Cassandra Wilson - Closer To You: The Pop Side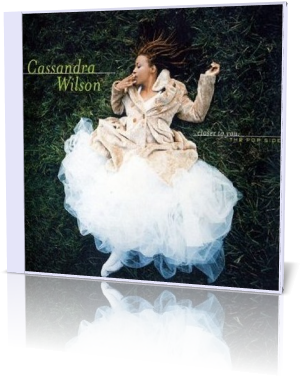 Jackson Mississippi born jazz vocalist, songwriter and producer Cassandra Wilson can look back on a rich solo career. She received Grammy Awards for Best Jazz Vocal Performance for her album New Moon Daughter (1996) and for Best Jazz Vocal Album for Loverly (2009).
She is also known by her collaboration with alto saxophonist Steve Coleman, who encouraged her to look beyond the standard jazz repertoire in favor of developing original material, and the M-Base collective, in which Coleman was the leading figure.
Her new album on Blue Note Records is entitled Closer To You: The Pop Side (2009), a collection of covers of pop and rock hits. With her unmistakable voice she gives each song a new finish.
The album starts with Love Is Blindness, a song from U2's 1991 album, Achtung Baby. Cassandra had already performed this melancholic song on her album New Moon Daughter which received high acclaims especially because of her luscious interpretation.

Cyndi Lauper's Time After Time from her album, She's So Unusual (1984). Cassandra's cover was originally released on her album Travelling Miles (1999), a tribute to Miles Davis following Miles' path of his album You're Under Arrest (1985). Cassandra accelerates the loathsome interpretation to some kind of unreality.
Stings' Fragile, previously to find on Cassandra's album Glamoured (1993) is presented in her own style with a minimalistic and so effective rendition. An acoustic delicacy thanks to bassist Reginald Veal (Wynton Marsalis), guitarist Fabrizio Sotti and percussion player Jeff Haynes.
Her rendition of Jakob Dylan and the Wallflowers' Closer to You, taken from Thunderbird (2006) is a turning away and back from the acoustic side of bass player Veal allowing an opening to Jim Keltner's hip-hop shuffle beat.
The Monkees' Last Train To Clarksville from Cassandra's album New Moon Daughter finds a new revival with great distancing effects by Brandon Ross' electric guitar. From her album Belly of the Sun (2002) Cassandra displays her read of the Band's The Weight, by the way one of the greatest hits of this group.
On her Blue Note debut Blue Light 'Til Dawn (1993) Cassandra presents the Van Morrison song Tupelo Honey with her own sensibility and nasal elegance. Another take from her Grammy awarded album New Moon Daughter (1995) is the colorful and atmospheric Neil Diamond rendition Harvest Moon, a powerful nature oriented song with a perfect arrangement.
Ann Peeble's 1973 hit I Can't Stand The Rain finds an excellent bluesy counterpart with Cassandra's interpretation from Blue Light 'Til Dawn (1993) perfectly accompanied by Brandon Ross' steel guitar.
Cassandra's Lay Lady Lay (Glamoured) is a earthy rendition of Dylan's folk hit seen by the eyes of an Afro-Caribbean percussionist. "Cassandra's odd meters, the driving rhythms and the way she weaved and flipped lyrics were a refreshing, over-the-top challenge for me. That's when the game got serious for me," says percussion player Jeff Haynes.
Jimmy Webb's Wichita Lineman known by Glen Campbell is spiritualized by Cassandra's ethereal vocals on her album Belly of the Sun (2002).
Cassandra Wilson underlines with her best off album Closer To You: The Pop Side that covers can be better than the originals. You cannot get a better survey about her career and personality.



Bio

Cassandra Wilson - Website

Buy the album in


Album Information
Title: Closer To You: The Pop Side
Artist: Cassandra Wilson
Year: 2009
Length: 0:57:56
Genre: Smooth Jazz
Label: Blue Note


Tracks:

01 Love Is Blindness [4:54]
02 Time After Time [4:08]
03 Fragile [4:37]
04 Closer To You [5:49]
05 Last Train To Clarksville [5:17]
06 The Weight [6:05]
07 Tupelo Honey [5:38]
08 Harvest Moon [5:02]
09 I Can't Stand The Rain [5:28]
10 Lay Lady Lay [5:09]
11 Wichita Lineman [5:49]