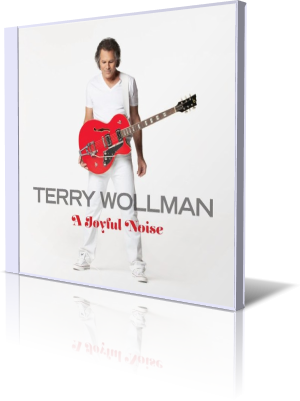 After his Latin flavored debut album Bimini (1986) and his further records Say Yes (1998) and Buddha's Ear (2011) Terry Wollman pleases the audience this time with A Joyful Noise (2012). When asked why record a Christmas album, can only be answered by the artist himself.
There is probably a law of nature that the Christmas season pushes Christmas music on the market. Thematically Wollman holds mainly the circle of known Christmas hymns.
He begins the album with Mel Tormé's and Bob Wells' The Christmas Song. Wollman's swinging version earns a top grade. Focused on the core of the musical message he shares with his band mates short offerings.
Have Yourself A Merry Little Christmas is a Christmas song introduced by Judy Garland in the 1944 MGM musical Meet Me In St. Louis. Interesting is the insertion of the mandolin as carrier of the melody.
On the famous Jingle Bells Wollman reveals his affinity for Latin music. With Eric Marienthal on alto sax, Abraham Laboriel on bass, Lenny Castro on percussion and Ricky Lawson on drums nothing can go wrong. A lively rendition of The Little Drummer Boy follows the theme 'banjo meets handclaps'.
Melissa Manchester contributes a pimped version of her hit Home To Myself. Wollman continues with a rendition of Amy Grant's Breath Of Heaven. A modern Christmas song with a strong gospel character. The old English carol We Wish You A Merry Christmas is thoroughly dedusted by Wollman. The best duster is Mindi Abair on the alto sax.
On This Day Wollman presents singer Ellis Hall. His biography isn't written, but his voice is mesmerizing. With a medieval playing style leads Wollman Greensleeves to heart. Silent Night is the classical Christmas song "par excellence". The song was originally composed by Franz Xaver Gruber in 1818. Wollman brings the Christmas spirit on his acoustic guitar.
With Holy Night he sets a a modern counterpart on the guitar. Some Children See Him features young Pop singer Melanie Taylor in a heartfelt attitude. With a reprise of Silent Night says Wollman Good Bye to the audience.
Terry Wollman offers with A Joyful Noise a tasteful sight on the classics. Not only different but better.




Biography

Website


Buy the album

Album Information

Title: A Joyful Noise
Artist: Terry Wollman
Year: 2012
Length: 0:55:23
Genre: General Holiday
Label: Mango Eater Music

Tracks:

01 The Christmas Song [4:58]
02 Have Yourself A Merry Little Christmas [4:04]
03 Jingle Bells [3:32]
04 Little Drummer Boy [4:17]
05 Home To Myself [3:25]
06 Breath Of Heaven [5:13]
07 We Wish You A Merry Christmas [3:51]
08 This Day [3:31]
09 Greensleeves [4:32]
10 Silent Night [4:35]
11 Holy Night [4:35]
12 Some Children See Him [4:16]
13 Silent Night Reprise [4:33]



Further review: