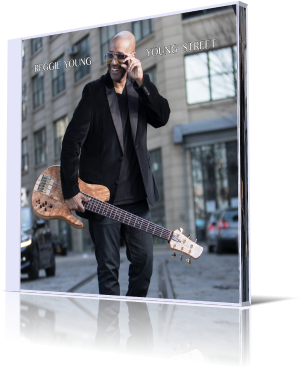 New York has always been the platform of bass player Reggie Young. He is at home in clubs, theaters and churches. He debuted in 1997 with his album Among Friends, followed in 2002 by a self-titled album with John Patitucci and Steppin' Up in 2011 featuring saxophonist Darren Rahn.
His new album Young Street was released in July, 2017. Reggie attaches importance to the statement that it is not smooth jazz. Beyond the meaning of genres, a classification in contemporary jazz describes his music with the typical uncertainty, which the listener has to accept.
On the new project are performing beside Reggie (bass), Garnett Walters (b3 organ), Paul John Jr., Daiquan Davis, James Rouse (drums), Darwin Noguera, Yeisson Villamar (piano, keyboards), Pablo Batista, Miguel Ayala (percussion), Bill Holloman (horns), Marissa Licata (strings), Andrew Swift (guitar), Onree Gill (Rhodes), James Cage (trumpet), James Hall (vocals), and John Peters (keyboards).
Young Street is the music, Reggie Young is promising. Lusty, unspoilt, earthy, rooted in music history and in the hearts of passionate musicians. A big punch of brass, retro organ and bass guitar a la carte. Smash 'Em Up is short, concise, to the point. Something, Trombone Shorty and Tower of the Power would be proud of.
Brazilian Dreams is a rare mélange of natural pleasure in playing, brilliant technique and dazzling expression combined with the Samba sound in the style of Carlos Antonio Jobim. Magic is starting like a celestial choir, but then Reggie tears down the visible facade to show layers of the reality.
Riding Low is banged out with great horn and guitar support. A clear commitment to rock music. The infectious Alright with Me presents Reggie's astonishing vocal quality and presence. Spokeville is a conspiratorial wink between bass, guitar, organ and horns addicted to a constant melody line.
Adjacent Perspective is a piece full of opposites. Sonic bass lines with vocal overdub in the style of Nathan East contrast with intransigent contemporary jazz elements. Sister Mother Funky offers unadulterated funk with groovy horns, bull heading guitar, and Reggie's unique bass, all grouchy and straightforward, unpretentious and indestructible.
Naima is a female pre-name with oriental roots. Reggae associates that name with fond memories, if one interprets the course of the song. The live piece Yes Again features vocalist James Hall who sings in an incredible high falsetto. James and Reggie often collaborate in Gospel settings.
Young Street is Reggie Young's reflection of everything that makes this musician. Different as the individual residents of a street united by his instrument, the Reggie Young Signature Fodera bass.





Buy the album in all stores

Album Information

Title: Reggie Young
Artist: Young Street
Year: 2017
Genre: Contemporary Jazz
Label: Independent


1. Young Street 3:17
2. Smash 'Em Up 2:59
3. Brazilian Dreams 4:21
4. Magic 4:40
5. Riding Low 3:05
6. Alright with Me 3:32
7. Spokeville 3:24
8. Adjacent Perspective 4:44
9. Sister Mother Funky 4:32
10. Naima 5:11
11. Yes Again (Live) 6:47