Marco
Marco, born 1959 in Italy. Self-taught musician playing with various jazz ensembles in Italy before venturing to Pune, India, in 1978, where he met Osho and became involved in the musical scene of his ashram. In the eighties Marco travelled throughout the United States and Italy playing and composing Meditation/World Music.
Laughing Drums (Bauer)
Dancing Tribe
A rhythmic happening, this joyous celebration of the dancing tribes moves from tribal to samba, from soft pulsing rhythms to gypsy violins. Great for movement and relaxation.
Ambient Trance dance meditation
Energetic synthesizer sounds enhanced by a wide range of live percussion create a nonstop dance experience of forty minutes, from a gentle beginning the sounds grow more and more into the movement. The second phase consists of twelve minutes atmospheric sounds for relaxation and reflection.
Grooving and energetic tunes, ethnic but with elegance and cool, sensual and moving. While Marco's guitars send you flying, the passionate rhythms of Harida's drums and Rupesh's congas and percussion keep you rooted in the ground. Beginning with a joyous, feeling-good tune called Baba, it moves into Zero, to be listened to through the heart. Monsoon has the softness and mystery of luminous dark skies. In the seven beats piece Marco's voice and the flute, played by Yashu, will give you goosebumps. Called Pura Vida, the title is the street mantra in Costa Rica, meaning good life. The musicians are from Italy, Mexico, Chile, Spain and Japan and the invisible thread that weaves them together is the ultimate master of music and life, Osho.
---
Marco · Rupesh · Harida - Inside Out
In our trilogy about albums of the label Nazca Music Inside Out takes an unique place . This album is a blend of Smooth Jazz, Jazz Fusion, World Music and New Age. Anew the album is appointed as Smooth Jazz b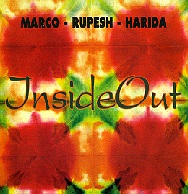 ut it doesn't fit in the usual radio format, one awaits. The tunes are with more than seven minutes in average extensive and gave the musicians the opportunity to develop the atmosphere and the solos after their imagination.
The kind of music some of you may have heared by Third Force and Yulara are brought to a more comprehensive level. The influence of the Indian transcendental music is to be sensed at all locates. Probably the music is a product of the Indian experience of the band members as showed up in their biographies.
Nazca Music describes the mood as follow:
"Evoking the relaxed feeling of warm summer nights, this album is full of loose dreamy melodies. Stalking rhythms of drums, congas and percussion, along with shimmering guitars, are wrapped in driving arrangements, which at times take of like an express train, at others drop you at that inner destination!"
Baba is a typical example of this meditation music with repetitives music-motives and a carrying lead music-theme accompanied by a complex percussion structure.
Zero starts with dreamy strings introducing to a guitar melody. Sustained guitar tones are interchanging with rapid scale passages with a jazzy attitude.
Monsoon, a tropical wind in India, is the motif of the next guitar tune continuing the play of the former piece.
Step In is an uptempo Jazz Fusion tune with strong World Music elements. Anew one can hear the combination of repetitives music-motives (keyboard) and a leading melody (guitar) now in a quicker way. Remarkable the perfect percussion background.
Pura Vida starts with a picturesque percussion intro followed by dreamy keyboard sounds leading into a guitar staccato accompanied by scatting vocals and an extensive congas solo. In the middle of the track an awesome flute takes over the leading role.
Buddha Moon offers a propulsing percussion background with keyboard overdubs and an extensive guitar solo.
If your musical mind is open to new musical experiences, this album is a worthy entrance to a new world. Those who had listened to Can, Third Force, Yulara, Software, Tangerine Dream, Peter Seiler or Quietforce will discover similarities.
© HBH
Soundsamples are to find at
http://artists.mp3s.com/artists/133/marco_rupesh__harida.html
Musicians:
Marco: guitar, guitar-synthesizer, keyboard, voice
Rupesh: congas, percussion, bass on Monsoon and Zero
Harida: drums, programming
Vimukti Bharti: piano on Baba
Yashu: flute on Pura Vida.



More information about