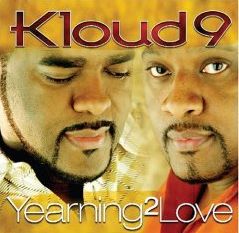 This new record of Soul and R&B duo Kloud 9 definitely is one of the freshest releases in this genre during the last months.

Kloud 9 consists of twin brothers Kelvis and Kendall Duffie, who were born in Moline, Illinois near Chicago. Their mother was a church musician and so they also started singing in church at a very early age. They gained first public attention at the age of 14, when people like Jerry Weaver, the former lead guitarist of Aretha Franklin and the producer of such artists as Janet Jackson took a strong interest in them. The Brothers joined a Gospel Group called Meekness, which performed with groups like "The Commissioned" and "Take 6". Those experiences gave them the possibility to start bigger and better things.
Kendall went to London, where he lived for almost two years just to get new creative impulses and built up new connections. There he met producer Ray Hayden, who introduced him to Incognito front man "Bluey", who is now also contributing to the latest release. After short meetings with several record labels, Kendall finally met Ralph Tee from Expansion Records, who released the sampler "Soul Stepp'n", on which the duo released its first song called "Make You Mine". Kirk Whalum, who was playing with them on this record, is now also featured on the new recording.
Their song became so successful, that they gained a record deal with Expansion and recorded their first full CD. Two years later their debut was released under the title "On Kloud 9" and became a great success in the UK soul charts in 2002. So now they present their sophomore release, called Yearning 2 Love and they definitely managed to create a soulish R&B quality record.
The album is a compilation of great love songs and danceable up-tempo tracks. It all starts with Special One and Never Knew, two fresh mid-tempo R&B tracks with a nice groove, which just brings the listener in the right mood. Mellow synthesizer-backgrounds together with the smooth and endearing falsetto vocals of the Duffie-brothers are just producing a perfect soul-vibe.
The next two numbers Dance Awhile and So Many Reasons are also great danceable tracks. While Dance A While comes along with a strong beat, So Many Reasons features Incognito front man "Bluey". He added some great guitar sequences and makes this song sound like a great mťlange of Kloud 9 and Incognito.
On the track Can't Be Love, Kloud 9 features Mitchell Jones on vocals, who is one of the original members of Gospel and R&B band "Commissioned". His voice fits perfectly in the vocal ambiance of the Duffies. Chosen as the current single, Can't Be Love just has been airplayed all around the U.S.A..
Another great track is the Jermaine Jackson classic Don't Take It Personal, which features Michael Fair on Flugel Horn and saxophonist Kirk Whalum, who performed with nearly everybody from Bob James, Al Jarreau, Quincy Jones to Whitney Houston.

Kirk Whalum said about his collaboration with the Duffie-Brothers: "... having just returned from England this week, I'm all too aware of the wide swath that the soulful sound of Kloud 9 has already cut in the world of 'in-the-know' music fans in the UK. I can't wait for the U.S. to be on the same page and get hip to Kloud 9!"
The bluesy Just Another Day, introducing great singer Russell White and the very quiet Ready, Willing, Wanting round off an amazing Soul/R&B-recording. Kloud 9 producer and vocalist Kendall Duffie says: "To finally have our music heard in the States is what I've worked towards my entire life, I was born to make music, and after spending a few years building my chops overseas, I am glad the time has come to bring our brand of soul music back home."
Yearning 2 Love is the best proof, that his dream will come true!


Track list:
1. Special One
2. Never Knew
3. Dance Awhile
4. So Many Reasons featuring Incognito
5. Gimme Gimme Gimme
6. Canít Be Love featuring Mitchell Jones
7. With Me
8. Isnít It Obvious
9. Quality Time
10. Wanna Show You Love
11. Happy
12. Yearning 2 Love
13. Donít Take it Personal featuring Kirk Whalum and Michael Fair
14. Just Another Day introducing Russell White
15. Ready Willing Wanting
KOC-CD5550
Soulvibe Entertainment/Koch Records 2007