The Düsseldorfer Jazz Rallye is an annual festival which started this year earlier in June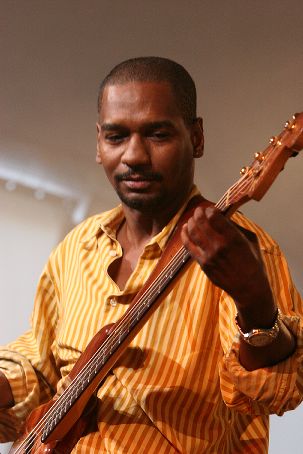 . The festival is an interesting mixture of several jazz styles from soul jazz to Dixieland. Two weeks before the festival started I had reviewed an album of J. Thompson called "Inside World". J. Thompson had produced and performed this album with his friend Peter Horvath. Peter is an often asked keyboardist who played with artists like Roy Obiedo and the Braxton Brothers. I had an email contact with Peter who informed me about his upcoming gig at the Düsseldorfer Jazz Rallye at Friday. So I sneaked into Victor Bailey's concert at the Burgplatz in Düsseldorf. The promoters of the Jazz Rallye are very friendly. They allowed me to make as much photos as I like.

Victor Bailey is certainly one of the famous bass players besides Marcus Miller, Victor Wooten or Gerald Veasley. He played and recorded with Tom Browne, Bobby Broom, Kenny Kirkland, Bernard Wright, Mike Stern, Donald Blackman, Dennis Chambers, Poogie Bell, Rene McClean, Kevin Eubanks, Tommy Campbell, Kenwood Dennard, Delmar Brown, Najee, Miriam Makeba, Omar Hakim, Lenny White, Hamiet Bluiet, Olu Dara, Don Alias, Sadao Watanabe, Michael Urbaniak and Ursula Dudziak. He has played on over one thousand recordings with everyone from Weather Report, to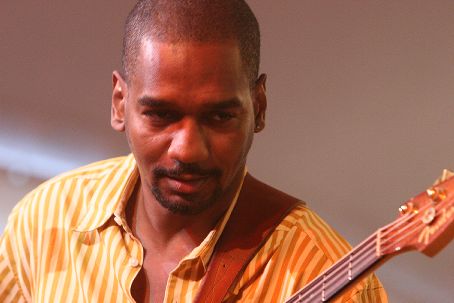 Michael Brecker, to LL Cool J, to Mary J Blige. He has written and produced artists like the Force MD's, Alex Bugnon, George Howard and Missing Links. In the late 80's and early 90's he was a member of various incarnations of the jazz fusion supergroup Steps Ahead. Throughout the mid 90's he toured with pop megastar Madonna. In 1997 he rejoined his mentor, Joe Zawinul, in his group, The Zawinul Syndicate. In 1999 he started his solo career.
The group started their show with "Goose Bumps". This tune was recorded for his CD "That's Right" on ESC Records (2002). Originally he planed a long bass solo but decided then to reduce it in favor of the melody and the groove. Victor and his group performed in a great tent which was totally overcrowded. Unfortunately there was much noise in the background which was rather molesting. I was standing in first row so my musical enjoyment was unclouded.
Second tune was Low Blow, the title song of his album on Zebra Records (1999). It's one of his tunes on which he is humming along his bass play. It reminds me a bit at Pat Metheny's style. Compositional skills and performance are world-class. "Low Blow" was a tremendous success for Victor Bailey and secured his economical independence.
Steamy is also taken from Victor's album "That's Right". Following a long-lasting Bolero-vibe the tune reminds at Herbie Hancock & The Headhunters c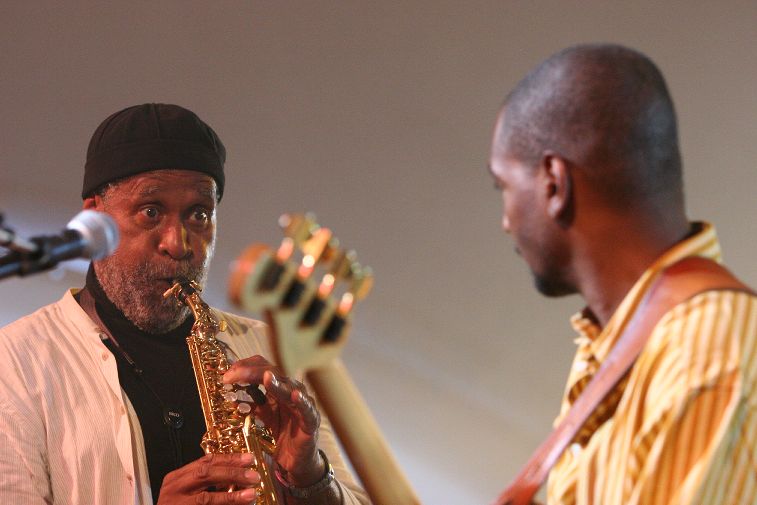 lassic tune "Vein Melter". The similarity is obvious and intended. No one else than Maupin is playing this tune. "Bennie Maupin is best-known for his association with Herbie Hancock and his atmospheric bass clarinet playing on Miles Davis' classic Bitches Brew album" (Allmusic Guide). This tune is walking into the deepest bebop and I was quiet impressed that even many young people were spellbounded by the mastership of this creative old man. Can you see the sparkling shine in his eyes? That's enthusiasm.
Victor Bailey's first solo album was "Bottom's Up" released in 1989 on Atlantic Records. That was the time when jazz was still profitable for the major labels. "Straight ahead became the sound of 30 or 40 years ago. And electric music became smooth jazz. I think a lot of us reached a point where we got fed up. I hadn't made a record in ten years because every label wanted the radio thing. It took me that long time to run into a label guy (German ESC Record's Joachim Becker) who would let me just play my bass and record the music I wanted to record." Even in 1989 Victor Bailey had to struggle for a label contract. Turning back the wheel of time Victor presented us Kid Logic and Joyce's Favorite from this album.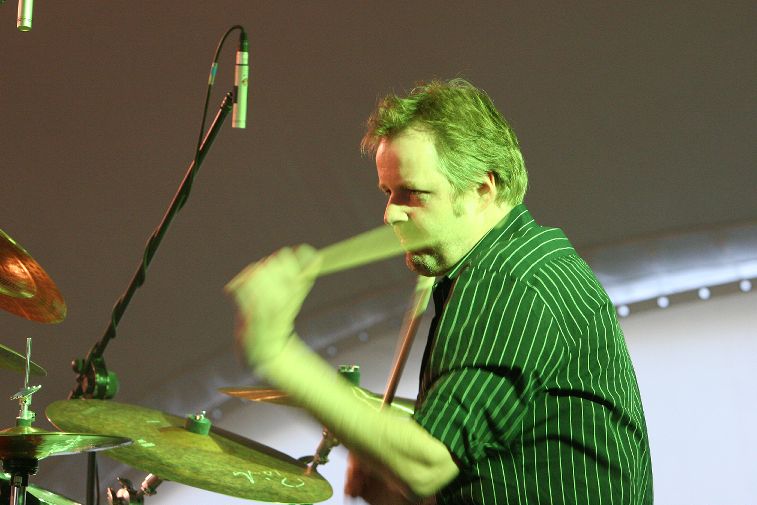 The propulsive Knee-Jerk Reaction (Low Blow) is showcasing how Victor Bailey develops the groove. On his album he was supported by two great drummers: Omar Hakim and Dennis Chambers. On this gig he was accompanied by Germany's jazz drummer #1 Wolfgang Haffner. The audience was headbopping gracefully diving in the bass line. Wolfgang had just one rehearsal in the afternoon playing the first time with the Victor Bailey group. He has a perfect style and Victor was often turning his head to the drummer with a smiling face. I suppose Wolfgang had studied Victor's music by listening to his CDs. He was just flawless and top notch. By the way Haffner has just released his new album "Shapes". While some of his earlier albums have a smooth jazz appeal he is now jumped into the fusion jazz. After the show he affirmed there will be no return. The "SHAPES" - Tour in Europe is going to happen Sept 30th - Oct 21st, followed by a few concerts in Asia in December.
Sweet Tooth is another uptem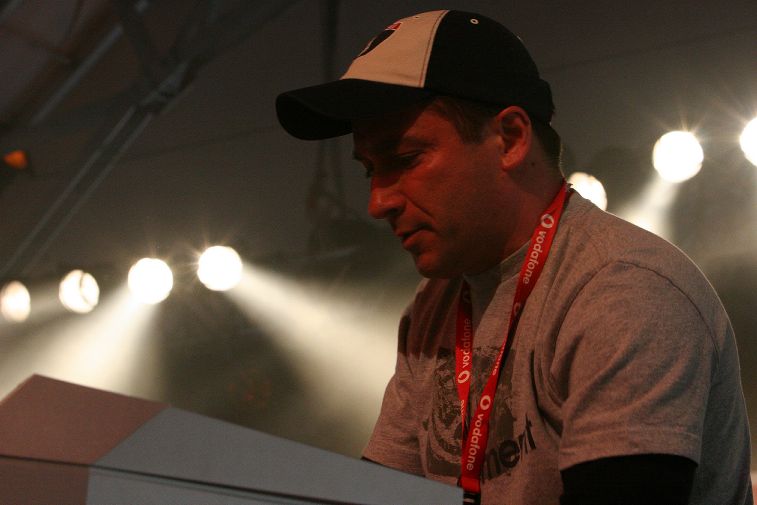 po tune of the album Lowblow. It's time to write about keyboardist Peter Horvath. Dressed for jogging he was the musical head of the group on this event. He has pushed and beaten the keys of his Roland like an Italian maestro. When he was running into improvisations and that was quiet often he stood up electrified by the energy of his fusion style. Since several years he is touring with Victor Bailey. He also plans new tours with Roy Obiedo and J. Thompson in the next future. Peter Horvath has released his solo album "Foreign Matter" in 1995. High time for a new record, Peter!
As an encore the group played Mr. De Priest. A bebop tune which was released on Lenny White's album "Edge" (1999). Bennie Maupin played the sax on the recorded version and that final tune was certainly his suggestion. Lenny White is a good friend of Victor Bailey too so he found an open ear. The yealing audience wanted more. So Victor Bailey played Joe Zawinul's Birdland as solo interpretation. Stunning!
An event to remember. The professionalism of all musicians was deeply impressing and especially this gig was a real enrichment of the jazz festival.