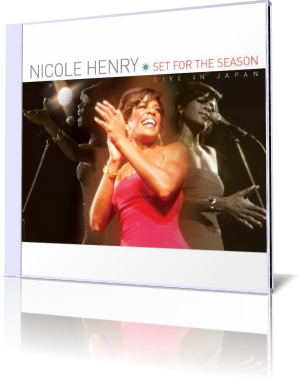 American beauty Nicole Henry recently pleased the audience with her new album Embraceable (2011), an impressive artistic statement of an astonishing vocal talent. Her album Set for the Season: Live in Japan (2010) was recorded live at the Cotton Club in Tokyo in December 2009.
Nicole was accompanied by Pete Wallace (piano), James McCoy (bass, vocal), and David Chiverton (drums, percussion). My Favorite Things from the musical The Sound of Music (1959) became not only a Jazz standard but also a very popular Christmas song. Often covered Nicole Henry presents a fresh and young version with great élan.
Christmas Time Is Here was composed by jazz pianist Guaraldi, Lee Mendelson added the lyrics. Both created the score for A Charlie Brown Christmas. Really a standard since a long time Nicole makes it cozy.
When Johnny Marks decided to adapt the story of Rudolph into a song, he wrote: "Rudolph, the rednosed reindeer, you'll go down in history." He never could imagine that this song would become such a huge Christmas hit covered by hundred of interprets. Nicole presents with her lovely voice a very personal version of famous Rudolph.

Chestnuts Roasting on an Open Fire is certainly The Christmas Song. Composed by Mell Tormé and Bob Wells in 1946 Nat King Cole was the first singer of this composition. Often compared with Nat's daughter Natalie Cole she deserves the crown as worthy successor.
Baby It's Cold Outside was composed by Frank Loesser, covered by a legion of artists, this song certainly earns the attribute jazz standard or pop standard depending of the style of interpretation. Nicole duets with James McCoy taking the wonderful jazzy treat.Santa Claus Is Coming to Town is warming hearts since 1934. Nicole lets it swing.
The well-known Christmas carol composed by Adolphe Adam O Holy Night is filled by Nicole with such a heartfelt passion. Sweet hymn of joy! Irving Berlin's I've Got My Love To Keep Me Warm has seen the finest singers like Bing Crosby, Frank Sinatra, Ella Fitzgerald, Tony Bennett, Dean Martin or Bette Midler. Who can deny Nicole Henry to take her place among these illustrious ranks?
I'd Rather Drink Muddy Water is a Blues standard by Eddie Miller, interpreted by B.B. King, Lou Rawls and other greats of this genre. Nicole can even dive in this Blues conspiracy universe. Not only her voice but also her excellent band lends out the necessary authenticity.
Nicole Henry's Set for the Season is not just a fine Christmas gift. This CD requires your attention all seasons.



Buy the album in all stores




Album Information



Title: Set for the Season: Live In Japan
Artist: Nicole Henry
Year: 2010
Length: 0:42:17
Genre: General Holiday
Label: Banister Records, Inc.


Tracks:

01 My Favorite Things [5:00]
02 Christmas Time Is Here [4:03]
03 Rudolph the Red-Nosed Reindeer [4:48]
04 The Christmas Song "Chestnuts Roasting on an Open Fire" [6:02]
05 Baby It's Cold Outside [5:15]
06 Santa Claus Is Coming to Town [3:01]
07 O Holy Night [5:20]
08 I've Got My Love To Keep Me Warm [4:47]
09 I'd Rather Drink Muddy Water [3:59]

Further review: