John Evans & Dream The Winding Road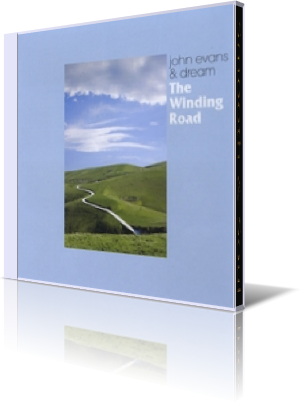 While David Sanborn returns with the soon be released album Only Everything to the jazz roots, he was however one of the pioneers of the Smooth Jazz genre in 1979, when John Evans joined David on his album Hideaway. Evans composed and co-penned Creeper with Sanborn. This tune became the single release from the album, which turned into RIAA certified gold.
Recently John has build a state of the art studio, in which he recorded his sophomore album The Winding Road (2009). Keyboardist John Evans is joined on this album by his band Dream, Ron Jones (saxophones & flute), Larry Spencer (trumpet & flugelhorn), Brady Mosher (guitars), Johnny Hooper (guitars), John Evans (keyboards), Chuck Rainey (Fender bass), Gene Glover (congas & percussion), Mike Collier (drums & vocals), Jennifer Perryman (vocals), Rosana Eckert (vocals), Annagrey Labasse (vocals).
The Bossa Nova flavored Easy Love allures with Annagrey's and Rosana's humming swing perfectly harmonizing with Larry Spencer on flugelhorn, who adds his jazzy approach.
Love Will Find A Way shines with a brilliant horn arrangement by John Evans, performed by Ron Jones on sax and Larry Spencer on trumpet. Both Larry and Ron are alumni of the famous One O'clock Lab Band at the University of North Texas at Denton.
I Was A Fool is a family collaboration. John Evans composed the song, while his wife Sandy wrote the lyrics. The song is interpreted by drummer Mike Collier and Jennifer Perryman accompanied by Ron Jones on sax. Great emotional entertainment.
On In A Gentle Way is Ron Jones (soprano sax) the leading instrumentalist. His performance is multi-faceted, smooth and slow, energetic and impulsive. A great talent of improvisation.
Tight Squeeze is a journey into Latin music. While singer Annagrey and Rosanna set the melodic foundation in their vocal way, improvise Ron Jones (flute) and Larry Spencer on a jazzy bridge.
The album is closed with the title song The Winding Road, a horn driven slow-tempo tune with great space for contemplation.
With his second album The Winding Road John Evans chose his own way to melodic music, always more downtempo and with stronger emphasis on melody than urban rhythm. Perhaps not radio-like but still appealing.




Album Information

Title: The Winding Road
Artist: John Evans
Year: 2009
Length: 0:30:50
Genre: Smooth Jazz
Label: Studio Records


Tracks:

01 Easy Love [6:05]
02 Love Will Find A Way [5:09]
03 I Was A Fool [5:23]
04 In A Gentle Way [5:26]
05 Tight Squeeze [4:12]
06 The Winding Road [4:37]