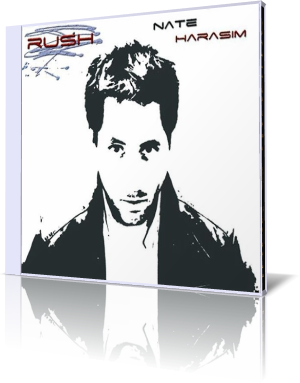 Nate's album is the translation of Milton's poetry into music. An inclination of reverie and wonder. That was the conclusion of my review about his first album Next In Line (2007). One year later he returned with his album Love's Taken Over. Now this big talent is back with his new album Rush on Trippin' N Rhythm Records.
Nate Harasim is one of the young lions, the new generation of smooth jazz. Harasim just peaked at #1 on the US charts with his Steve Oliver Production for an eight weeks run, and now he was the sensation on the Dubai Jazz Festival 2011.
The title track Rush is the evidence for Nate's fantastic collaboration with saxophonist Darren Rahn, who has co-written with Nate most of the tunes of this album. The easy going uplifting piece takes a funky twist on the last part showcasing the new direction Nate's career is intended.
Compared to his earlier albums one recognizes Nate's impetus to chance his elegant and smooth style to a more jamming character. To reach this effect Open Mic is enriched with strong horn elements by brothers Darren and Jason Rahn and Frank Selman's furious distortion guitar solo.
But there is also a return to a radio-friendly style like Both Sides of the Coin featuring guitarist Steve Oliver. Some classic elements are twinkling in between. The moody Iridescence featuring new talent Cindy Bradley on muted trumpet and flugelhorn captures the fans of Soul Ballet.
The catchy Up exposes Nate's impressive talent as composer and programmer. Blessed in such way and supported by a strong label nothing can go wrong. All together now! Why Don't You... features most of the participating musicians on this album in one song that bursts like dynamite. Big horns and a burning Nate on keys.
The sultry Different Kind of Love presents awesome singer Maxine Hardcastle, daughter of superstar Paul Hardcastle. A melting voice promising the paradise on earth. Put some top cats in the studio and you get Oso's Groove. A funky swing!
The Day After Tomorrow offers a Salsa peppered melody with Nate and Darren in best style, while Lost in You takes the Urban train. West Bound is the final incredibly energetic highlight of the album.
With Rush Nate Harasim underlines his profile as a raising star in the smooth jazz scene pushing the genre into new dimensions.




Website


Buy the album in all stores

Album Information

Title: Rush
Artist: Nate Harasim
Year: 2011
Length: 0:51:21
Genre: General Jazz
Label: Trippin' N Rhythm Records


Tracks:

01 Rush (Featuring Darren Rahn) [5:20]
02 Open Mic [4:52]
03 Both Sides of the Coin (Featuring Steve Oliver) [3:41]
04 Iridescence (Featuring Cindy Bradley) [4:53]
05 Up [4:26]
06 Why Don't You... (Featuring The Crew) [6:37]
07 Different Kind of Love (Featuring Maxine Hardcastle) [4:49]
08 Oso's Groove (Featuring Frank Selman) [3:53]
09 The Day After Tomorrow [4:28]
10 Lost in You [4:22]
11 West Bound [4:00]


Further reviews: