| | |
| --- | --- |
| Archive | |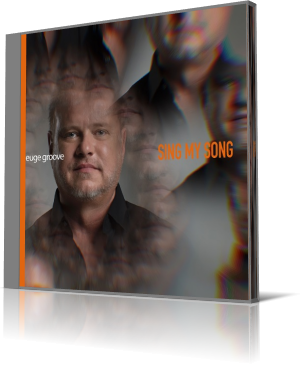 The corona virus has thrown the world and with it the community of musicians into confusion. While previously the diary was packed full of event dates, it is now empty. All musicians at present have plenty of time to record and release new music. However, as in all branches of industry, coronavirus-related bottlenecks occurred in CD pressing, but these are to be eliminated in the meantime. The music lover will be pleased, because he can now access a large amount of new releases.

In the case of the ever-popular saxophonist Euge Groove, Sing My Song (2020) is already the twelfth solo album. Given the current situation, it was also easy for him to win over a large group of musician friends for the creation of his new album. Actually, only his own budget is the natural limit. These include Cornelius Mims (bass), John "Jubu" Smith (guitar), Trevor Lawrence (drums), Lenny Castro (percussion), Dan Needham (drums), Eric Valentine (drums), Darryl Williams (bass), Jeff Caruthers (guitars, keys, programming, arranging), Carnell Harell (piano, Fender Rhodes), Philippe Saisse (orchestral arrangement, piano and programming), and Althea Rene (flute). Featured musicians are guitarists Paul Brown, Peter White, and vocalist Maysa.

The album opens with Hey Boo, a romantic approach to the everlasting love theme indicated by a smooth sax interpretation. Dirty Dozen was a movie located in the World War II, however Euge has something other in mind with this title. The first single of the album is his greeting to the arrangements of his time as member of Tower Of Power. Multilayered and powerful.

Rise was a hit by trumpeter Herb Albert from his same-titled album (1979) showcasing his signature sound. Euge adheres closely to the arrangement and tempo of the original. Featured artist on this cover is guitarist Paul Brown who gets ample opportunity to shine with his guitar. Until Tomorrow unites Euge's soprano sax and Peter White's acoustic guitar to a lovely Gospel tune.

With Say I Won't Euge returns to his true greatness as entertaining saxophonist with splendid vigor and zest. If you haven't noticed it when listening to the album, the critic and radio man notices the difference immediately, the individual pieces of the album are of remarkable length. The title song co-written by Euge and singer Lindsey Webster is featuring Maysa and Saisse's phenomenal panoramic orchestral arrangement in an unfamiliar stylistic area. Normally this pop section would rather be masterminded by David Foster.

Gatito is Euge's homage to Argentinean saxophonist Gato Barbieri, whose roots go back to the era of free jazz, but who was equally at home with film music (Last Tango In Paris) and the Latin American music of his homeland. With his trademark interpretation of Santana's tune Europa he was the pioneer of the smooth jazz format and at the same time became a model for numerous successors and epigones. It is no coincidence that Gatito (a gentler form of the name Gato) is based on the style of the old master.

The Journey Ahead returns to the safe fairway of smooth jazz whereby he purposefully celebrates standards and stylistic elements of his habitual playing style. He makes no difference on Of Course, where he relies on punchy playing, memorable repetition of themes and catchy harmonies. Good Night has the magic touch which prick up your ears.

Euge Groove steers with Sing My Song in different wide-ranging directions. Sometimes leaving the beaten paths can be a healthy experience especially for fans of his music longing for new impulses.







Biography

Website

Buy the album in all stores

Album Information

Title: Sing My Song
Artist: Euge Groove
Year: 2020
Genre: Smooth Jazz
Label: Shanachie Entertainment


Tracks:
1) Hey Boo (4:29)
2) Dirty Dozen (5:08)
3) Rise (6:00)
4) Until Tomorrow (4:39)
5) Say I Won't (4:47)
6) Sing My Song (6:08)
7) Gatito (5:23)
8) The Journey Ahead (5:10)
9) Of Course (5:00)
10) Good Night (5:02)
11) Sing My Song--Remix (6:28)




Further reviews:


House Of Groove

Got 2 Be Groovin